This post contains affiliate links.
Being a single mom is not easy, especially when you have to juggle work, household chores, and taking care of your kid.
You want to make sure your kid get a healthy and balanced diet, but you don't have much time or energy to cook elaborate meals.
Hello! My name is Jennifer. I am a proud mom to one beautiful little boy and am dedicated to helping women like you live your best mom life!
I find solutions for YOU and share them everyday here on this blog… (like this super helpful and FREE practical parenting class all of my mamas are loving)
That's why I'm here to share with you some quick and easy lunch ideas that you can make for your kid in a snap.
These lunches are nutritious, delicious, and kid-friendly.
Plus, they don't require a lot of ingredients or preparation.
Here are some of my favorite easy lunch ideas for your kids:
Turkey and cheese roll-ups: All you need are some slices of turkey, cheese, and tortillas. Spread some cream cheese on a tortilla, then layer some turkey and cheese on top. Roll it up and cut into bite-sized pieces. You can also add some lettuce, tomato, or cucumber for some extra crunch and freshness. Pack some fruit or yogurt on the side for a complete lunch.
Pasta salad: This is a great way to use up leftover pasta or cook some in advance. You can use any kind of pasta you like, such as penne, macaroni, or bowtie. Toss it with some dressing of your choice, such as ranch, Italian, or Caesar. Then add some chopped veggies, such as carrots, celery, broccoli, or peppers. You can also add some protein, such as chicken, tuna, or ham. Sprinkle some cheese on top for some extra flavor and calcium. This pasta salad can be eaten cold or warm.
Peanut butter and banana sandwich: This is a classic combination that kids love. Simply spread some peanut butter on two slices of bread, then slice a banana and layer it on one slice. Close the sandwich and cut into triangles or squares. You can also use other nut butters, such as almond or cashew, or other fruits, such as apple or strawberry. Pack some milk or juice on the side for a refreshing drink.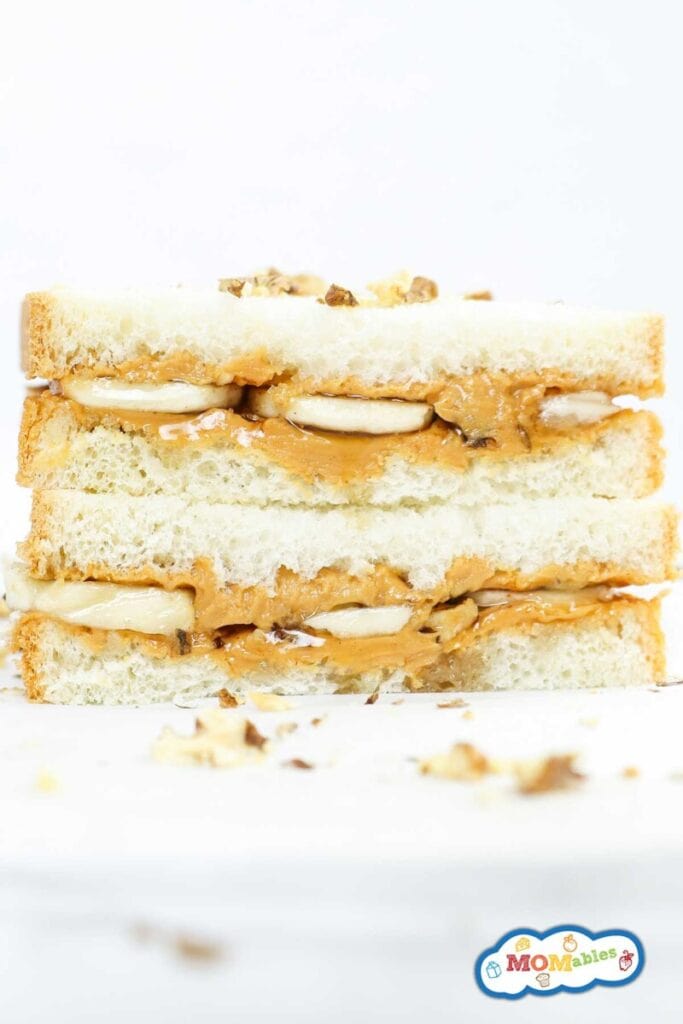 Chicken nuggets and veggies: Who doesn't love chicken nuggets? They are crispy, tender, and easy to make. You can buy them frozen or make your own by cutting some chicken breast into bite-sized pieces and coating them with bread crumbs and seasonings. Bake them in the oven until golden and cooked through. Serve them with some ketchup or barbecue sauce for dipping. For the veggies, you can use any kind that your kid likes, such as carrots, celery, cucumber, or cherry tomatoes. Cut them into bite-sized pieces and serve them with some hummus or ranch dressing for dipping.
Quesadillas: Quesadillas are another easy and versatile lunch option that kids enjoy. You can use any kind of cheese you like, such as cheddar, mozzarella, or Monterey Jack. Shred some cheese and sprinkle it on one half of a tortilla. Then add some toppings of your choice, such as chicken, beans, corn, salsa, or avocado. Fold the tortilla over and heat it in a skillet until the cheese is melted and the tortilla is crisp. Cut into wedges and serve with some sour cream or guacamole for dipping.
These are just some of the quick and easy lunch ideas that you can make for your kid as a single mom.
They are simple to prepare but still tasty and nutritious. Your kid will love them and so will you!
If you would like to keep up with future posts from HabitatforMom, I do have a Facebook page and Pinterest account that you can follow.
Every time I post something I immediately share it to the Facebook page, click here to like the Habitat for Mom Facebook page and follow.
If you found me on Pinterest you can follow me by clicking here as well. – You will see brand new pins and ideas every single day!