This post contains affiliate links.
Having a baby shower is one of the most anticipated events in a pregnant woman's journey.
Baby showers can range from big extravagant events or something small and intimate.
And it usually depends on your budget.
The average cost of a baby shower ranges from $100-$1000.
Let's say you're on a low budget, maybe between $100-$500, if that's the case then this post is for you.
Between invitations, the venue, the baby shower games, food and the baby shower decorations and so much more to pay for, it can be super overwhelming to think about the cost.
Having a baby shower on a budget is absolutely doable. As long as you have these tips to help you along the planning process.
Just an FYI if you really want to save a ton of money be prepared to DIY most things.
Don't be discouraged about DIYing a budget friendly baby shower because it's always super fun to do!
Make your own baby shower centerpieces
You can save tons of money by making your own baby shower center pieces like these here.
The Dollar Tree has really fun stuff that you can buy and slap together for a unique and fun center piece for the tables.
Some baby shower centerpiece ideas include,
The possibilities are endless and it does not have to cost an arm and a leg. You can also check out Pinterest for more ideas.
DIY your baby shower goodie bags
Once again I have to give it to Dollar Tree and all their amazing goodies for this one.
You can get cute little baby shower goodie bags and stuff them with candies or lip balm and call it a day.
It doesn't have to be crazy! Your people appreciate the gesture.
Use FREE baby shower printables
The internet is your oyster, seriously.
You can find so many printables that are actually FREE to help with your budget baby shower.
A quick google search will help you find hundreds of printables online that are perfect for a low cost baby shower.
They can range from cute signs, games, and even thank you cards.
Some FREE printables for baby showers I have found are:
You can also browse some websites for free baby shower printables like these thank you notes…
Go with a small intimate baby shower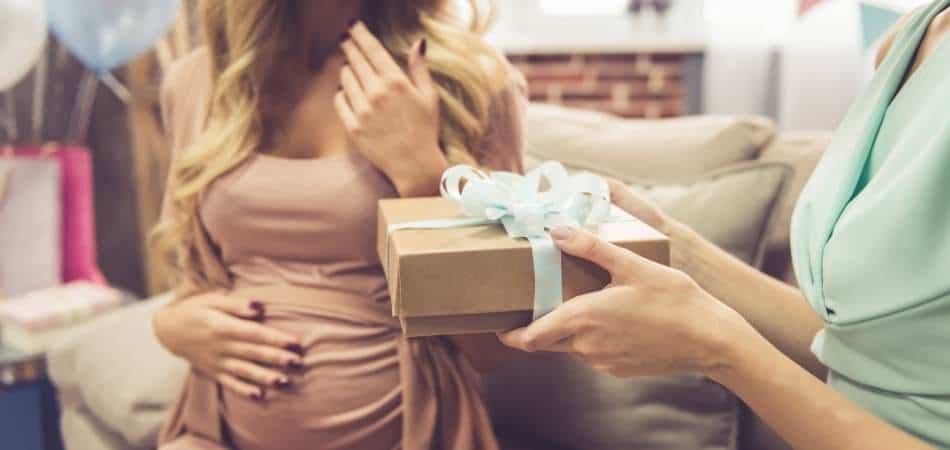 Having a small and intimate baby shower such as a sprinkle will save you money in so many different ways.
You will end up inviting a lot less people and in return you will need less of everything a baby shower requires.
Small baby showers consist of close family members and super close friends.
Maybe 15 people at most.
With less people means less invitations, less food, less favors and practically no games if that's what you prefer.
Consider ditching a theme all together for a more minimalist approach
Having a theme for a baby shower can be quite expensive.
Imagine having a woodland theme and then having to get everything that has to do with woodland animals just to decorate the walls and tables with. That can really add up if you start going all out like some people do.
Instead of having a specific theme that requires you to buy different things to match the theme, you can easily just go with a simple color scheme.
A nice light taupe and green color scheme is beautiful and it can go with a boy or a girl baby shower.
Pick a couple of colors and run with them, it doesn't have to be fancy.
Even something as simple as black-and-white can look super elegant for a budget baby shower.
Have a virtual baby shower
Nowadays virtual baby showers are all the rage especially because of the times we live in today.
Having a virtual baby shower will cut down on costs tremendously because you won't have to buy food for your guests or decorate anything.
You can play virtual baby games through video chat or even have your guests print out their own games so you guys can play together.
The best part about having a virtual baby shower is that you can invite as many people as you want and the cost will stay the same!
If you consider having a virtual baby shower for your budget baby shower, I would suggest signing up for the Amazon baby registry.
The Amazon baby registry is really easy to sign up for, it's free, and you get your own special link that you can send to all the people that will be attending your virtual baby shower.
All they have to do is order some thing on your list and it will be shipped to your house before the baby shower day.
Then you can open up your gifts in front of everybody on video.
Isn't it pretty cool the times we live in now?
Another benefit of having a baby shower online is everyone stays safe and healthy in the process.
Create your own baby shower invitations online
Whether you want to send an e-vite or an old-fashioned invitation through the mail you can do both almost for free.
I would actually highly suggest making your own invitations on an online software called canva.
Canva is super easy to use and you can make really cute invitations for your guests and email them.
Found a pretty easy to follow tutorial on how to make baby shower invitations in Canva.
You can also use an Evite service online here.
Throw your baby shower at a friends house or your house
Do you have a friend who doesn't mind having a baby shower at their house?
I mean heck, it can even be at your house if you don't mind.
My cousin just threw a baby shower at her house for her friend, it was super cute and tons of fun!
Goes to show how you do not need to rent a venue or a clubhouse to throw a super fun and eventful baby shower for anyone.
Rally up your friends and family to see who wants to use their home as the venue!
Get the timing right for your baby shower
Planning a baby shower doesn't have to be that stressful if you know how time it just right.
Consider having a morning baby shower. The food for a morning baby shower could be as simple as ordering bagels and cream cheese for your guests, which would be less expensive than a full blown catering event.
Having a morning baby shower will also ensure that most of your guests will have had breakfast already and won't be hungry anyways, so a couple of snacks will do just fine.
You can also have the baby shower right after lunch hours. Ensuring again, your guests have already eaten so all you need is some yummy snacks for them to munch on.
You can also have a night time baby shower, and have desserts and some alcohol beverages like wine for your guests if your down with that.
As you can see timing your baby shower just right will save you a lot of money on food!
Keep it a sober baby shower
on the opposite end of offering alcoholic beverages to your guests, you can skip this part all together.
Having a sober baby shower will save you money on alcohol. That's obvious.
So this ones a no brainer…
If you must though, tell your guests to BYOB.
Make it a potluck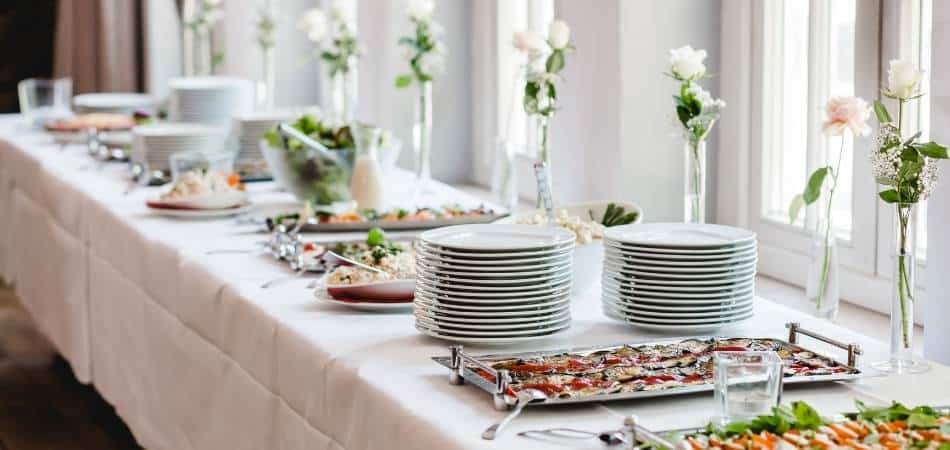 If you are so about the food at a baby shower and make it fun for everyone and consider having a baby shower potluck!
People love making there famous dishes for events.
This will guarantee you spend practically $0 on food at your baby shower.
Have some friends and family make main dishes and some make pastries and desserts.
Have a big long table for the food so when everyone comes in they can put it all together, it can be like a big baby shower buffet of food you didn't have to pay for!
Its a win win situation.
Final Thoughts
having a small and intimates low cost baby shower is actually getting more attention these days due to the current circumstances as of 2020.
I would say if anyone is having a baby shower who wants to save money should know these tips.
If you know anyone else who needs these budget baby shower hacks feel free to share it with them and help each other out.