This post contains affiliate links.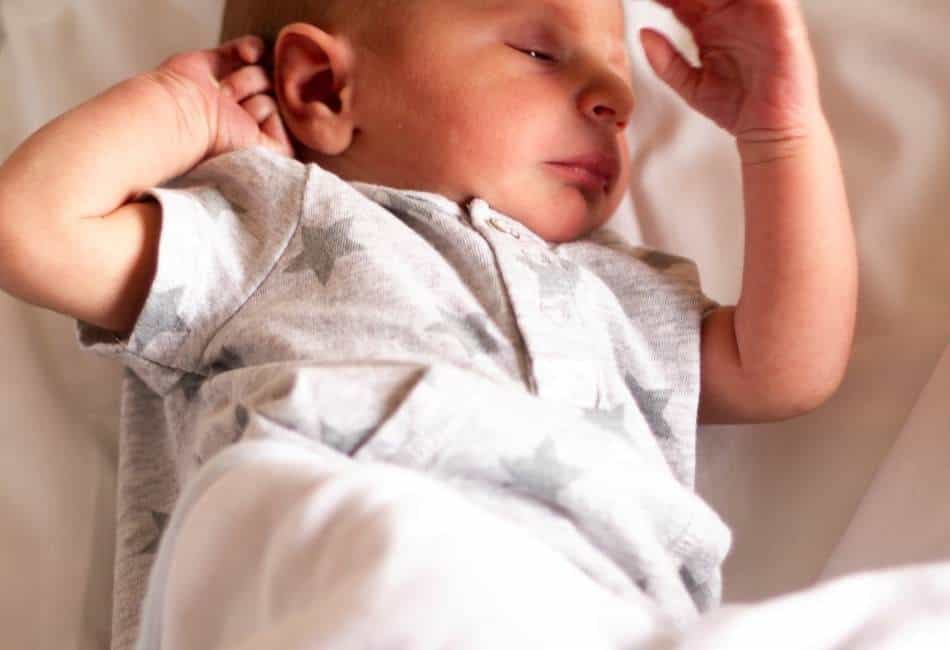 During my pregnancy, I search the Internet high and low for the best thing to put my baby in to go to sleep at night.
Finally, when the baby was in my arms and lo and behold he didn't want anything to with sleeping anywhere but on my chest.
✅ What's better than a bassinet? A baby playard! Here is a guide I put together to help you pick the BEST one! Read: Best Baby Playard Buying Guide for Newborns and Toddlers
Fortunately for me, I didn't spend money on a bassinet it was given to me as a gift and right when I put him in it the first night we were home he screamed bloody murder…
So I basically spent the first couple of months on the couch with him on my chest at night.
I know I know it doesn't sound safe but quite honestly I didn't really sleep anyways.
I have been given three pack & plays from the parents at the school that I worked at. Oh, the perks of being a preschool teacher.
Never did it cross my mind to actually open them up and use them anytime soon.
Boy, was I a mommy rookie…
I guess I'll give credit where credit is due. It was my sister who knocked some sense into me and told me to take out those pack and plays…
I am going to tell you all the wonderful ways those pack and plays can help you when you need them the most. Actually, when do you not need them?
YOU MAY ALSO LIKE:
5 Life-Saving Items That Will Help Your Baby Sleep Better.
How I Got My Fussy (colic) Baby To Sleep Through The Night.
New Mom Advice Plus 3 Valuable Tips To Get More Sleep.
But first…
What are pack and plays supposed to be used for?
Pack & plays are usually for when you are traveling, visiting family for the weekend, hotels, and so on…
They're also great to take to the beach. Especially if you don't want them to get sand in their mouth, or up their ars. It happens. LOL
But for real though, They're generally used as a safe place for baby to play. They also have the advantage of keeping messes at bay.
(This page may contain affiliate links. All opinions are always 100% mine and I do receive a small commission if you purchase through my links at no extra cost to you. Please see my Full Disclosure for more info)
The term 'Pack 'n Play' is almost exclusively used by the company Graco who have named their play yards as pack and plays.
However, the term has now become mainstream and pack and plays have an identity of their own.
A pack and play is perfect for being portable, lightweight, quick to assemble and amazing for travel.
These things are so easy to set up by just flipping it open, storing it away is a piece of cake as well.
A lot of people are debating over whether a pack and play is suitable for a child for sleeping purposes.
Especially if it's going to be the child's primary sleeping arrangement.
My answer to that is simple guys.
Yes – You can use a pack and play for your baby to sleep in at night.
Just make sure you're using the appropriate mattress and not the one that pack and play comes with.
The mattress you decide on will be different for everyone considering the type of pack and play you buy.
Let me tell you a little secret. I did! Oh, and my child is alive and well…
In my humble opinion, I feel like pack and plays are the best of both worlds. They can be used as a play yard and a crib.
So, how can the pack and play help you with your baby… Here are 5 reasons.
#1. It is easy to travel with and most of them are lightweight.
#2. You can move it to any room in the house you want.
#3. It can be an alternative to a crib if you can't afford one or don't have room for one.
#4. The mesh sides can possibly prevent SIDS.
#5. It is an introduction to transitioning your baby into a crib.
What are the best pack and plays on the market?
Check out this post here for the best pack and plays for newborns and toddlers.