This post contains affiliate links.
Hello! My name is Jennifer. I am a mama to one beautiful little boy and am dedicated to helping women like you live your best mom life!
I find solutions for YOU and share them everyday here on this blog… (like this super fun and helpful kitchen organization mini class my readers are loving)
Coffee bar kitchen counter decor and organization
Hey, coffee lovers!
Do you want to make your kitchen counter look like a cozy and stylish coffee bar? If so, you're in luck, because today I'm going to share with you some tips and tricks on how to decorate and organize your coffee station.
Whether you have a small or large space, a simple or fancy coffee maker, or a lot or a little of coffee accessories, you can create a beautiful and functional coffee bar that suits your taste and needs.
Let's get started!
First, you need to choose a spot for your coffee station. Ideally, it should be near an outlet, a water source, and a cabinet or shelf where you can store your coffee supplies.
You also want to make sure that the area is well-lit, clean, and clutter-free.
You don't want to have to move things around every time you want to brew a cup of joe.
Next, you need to gather your coffee essentials.
These include your coffee maker, your favorite coffee beans or pods, a grinder, a scale, a filter, a scoop, a kettle, a carafe, a milk frother, and some mugs.
These mugs are dorable! (click on them to get more info)
You can also add some extras like a French press, an espresso machine, a pour-over dripper, or a cold brew maker if you like to experiment with different coffee methods.
Of course, you also need some sweeteners, creamers, syrups, spices, and stirrers to customize your coffee.
Now comes the fun part: decorating and organizing your coffee bar.
There are many ways to do this, but here are some general guidelines:
Use trays or baskets to group your items and create zones. For example, you can have one tray for your coffee maker and accessories, another tray for your mugs and spoons, and another tray for your condiments and toppings. This will make your coffee station look neat and tidy, and also make it easier to find what you need.
Add some height and dimension to your coffee bar by using risers, cake stands, tiered trays, or wall shelves. This will create more space and visual interest on your counter. You can also use hooks, racks, or pegboards to hang your mugs, towels, or utensils.
Add some personality and flair to your coffee bar by using colors, patterns, textures, and themes that match your style and decor. You can use placemats, runners, napkins, or towels as accents. You can also use signs, labels, chalkboards, or artwork to display your coffee menu or quotes. You can also use plants, flowers, candles, or fairy lights to add some life and warmth to your coffee station.
Don't forget to keep your coffee bar clean and organized. Wipe down your counter and appliances regularly. Empty and wash your carafe and filter after each use. Store your coffee beans or pods in airtight containers away from heat and light. Rotate your mugs and accessories periodically to keep things fresh.
And there you have it: a coffee bar that looks like it came straight out of a magazine!
I hope you enjoyed this blog post and found some inspiration for your own coffee station.
Happy brewing!
More content I know You will Love:
Here is the best coffee bar ideas you can put right on your kitchen counter to give you the awesome coffee shop feels right in your own home…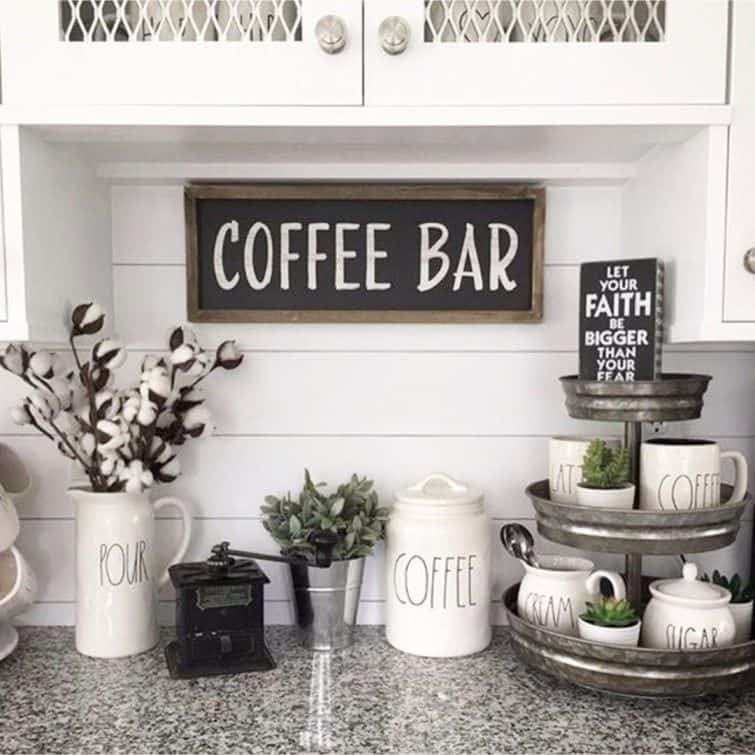 COPY THIS BAR
(source)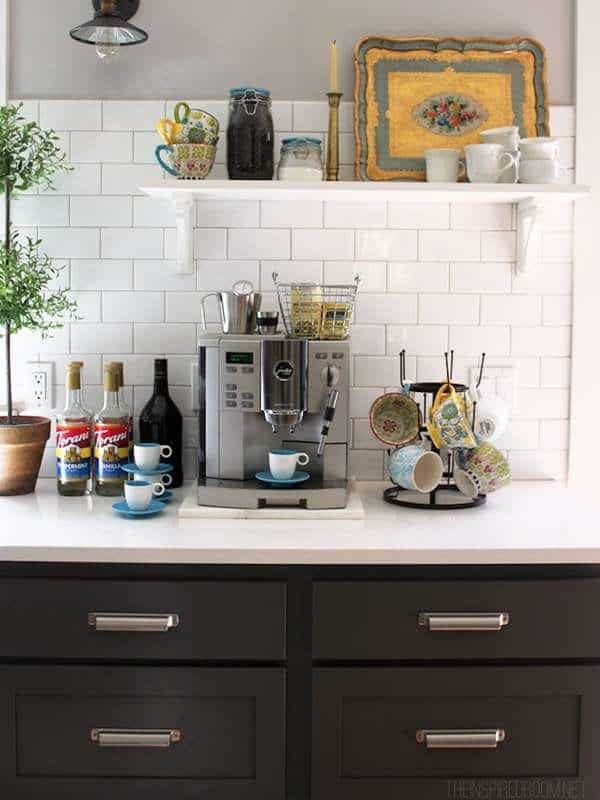 (source)
COPY THIS BAR
Coffee bar ideas video
More coffee bar ideas
(source)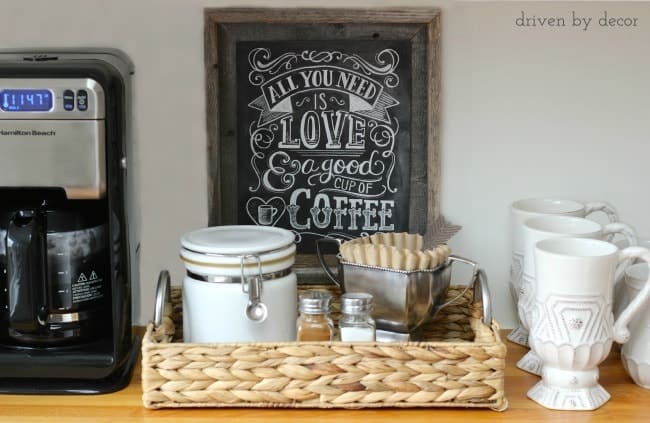 (source)
COPY THIS BAR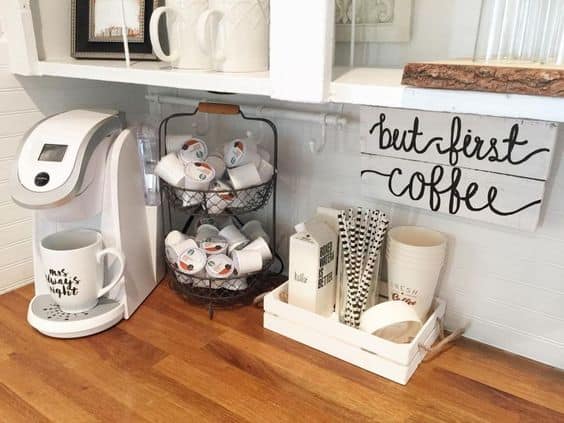 (source)
COPY THIS BAR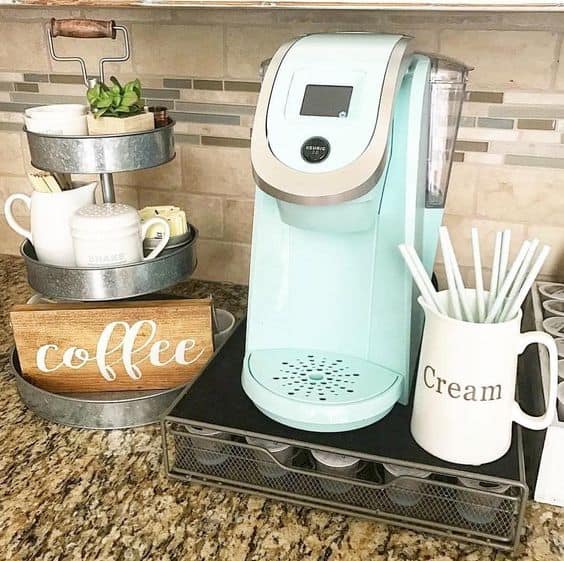 (source)
COPY THIS BAR
Pin for later: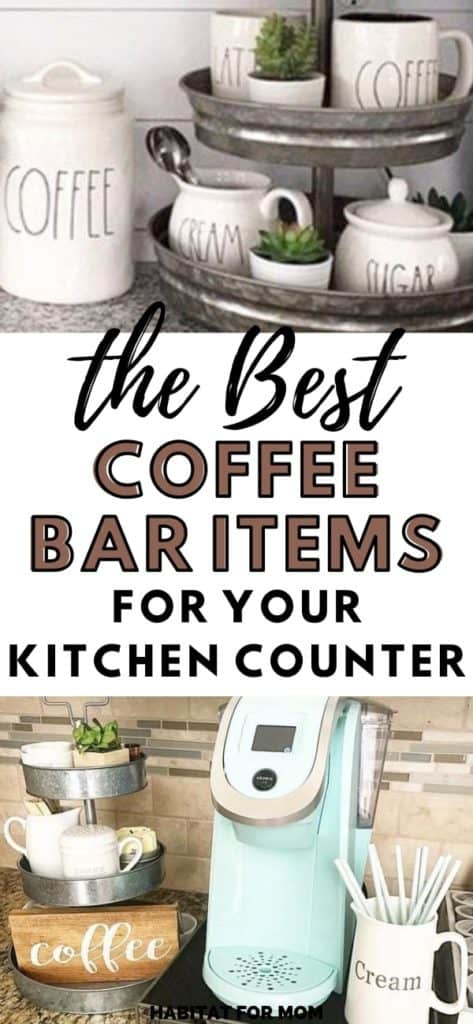 If you enjoyed this post please share it with another coffee lover 🙂