This post contains affiliate links.
Hello! My name is Jennifer. I am a proud mom to one beautiful little boy and am dedicated to helping women like you live your best mom life!
I find solutions for YOU and share them everyday here on this blog… (like this super fun and FREE organization challenge all of my mamas are loving)
White pumpkins are becoming super popular these days and for good reason, they are beautiful simplistic and they have a neutral color that matches anyone's décor preferences.
These white pumpkin décor ideas are perfect for Halloween Thanksgiving and even Christmas.
Finding a white pumpkin at the pumpkin patch is rather easy although you can also get a faux white pumpkin like this one so you can have it all year round and not have to worry about finding one every time.
White pumpkin décor is also very popular as wedding decorations as well as other events and parties throughout the year so I think it's safe to say these awesome ideas are not just for fall before any season of life!
I've curated these beautiful ideas as a visual list if you want to get the tutorial just click on the picture and it will send you to the creator of each idea.
If you want to save this list for later you can do so by pinning this picture to your Pinterest board…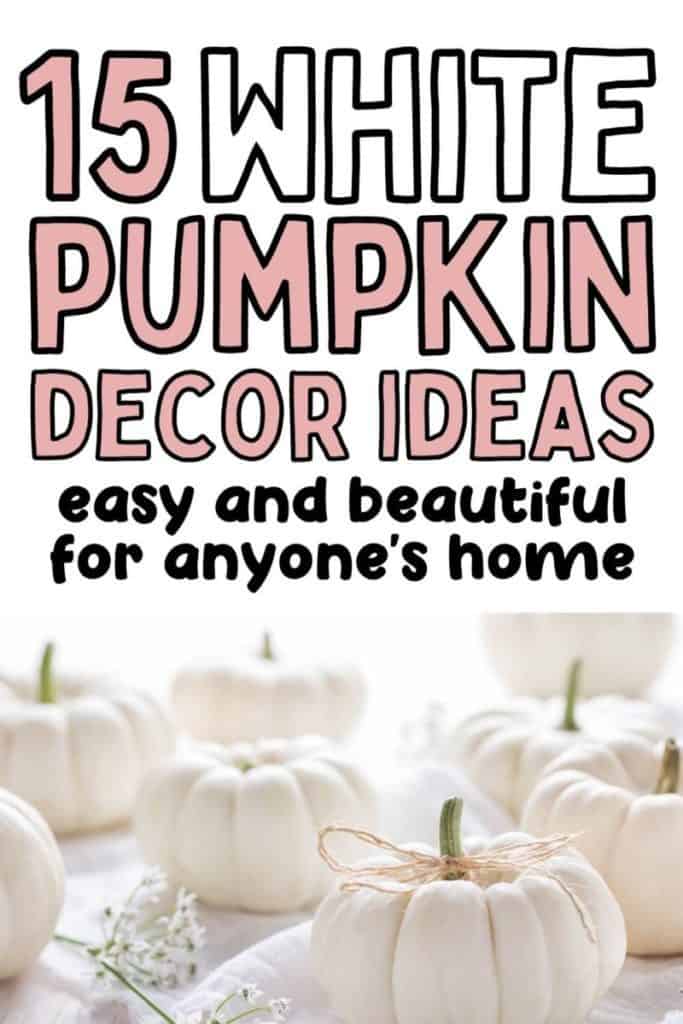 When recreate any of these ideas I would love you to also use the tried it button on this pin and add your photo so I can see it!
1. On the coffee table fit for fall
The woven basket in this picture with the tin baskets are absolutely stunning in my opinion.
2. Mr. and Mrs. white pumpkins for the bedroom
This idea is perfect for a wedding in the fall or just to put in your bedroom for you and your significant other to enjoy a little bit of seasonal bliss.
3. Thanksgiving center piece for the win
Can anyone say gorgeous Thanksgiving centerpiece, how adorable is this with the give thanks banner? I seriously am considering recreating this one myself.
4. Black lace pumpkin decoration
Using black lace to decorate a white pumpkin is literally genius.
5. In the garden custom made
These family custom white pumpkin decorations are adorable 4 outside your home either in the backyard or the front porch area.
6. 5 minute autumn pumpkins in a trey
Take 5 minutes out of your day to create this adorable white pumpkin with greenery and a tray, you can put this on your kitchen island or in the middle of your dining room table for a cute little centerpiece that is easy as 123.
7. On the stairs with greenery
I seriously can't get enough of these pumpkins looking like they're falling gracefully over the stairs like this. It seriously makes me want to buy a two story house now just so I can do this.
8. Mini white pumpkins decorated with copper stripes
A cute little copper pinned DIY white mini pumpkin accessory for your desk or work area with gorgeous mini flower arrangements are perfect for any Home Office or even your office at work.
9. Beautiful and simple white pumpkin flower arrangement
Flower arrangements are seriously the perfect centerpiece and classic. I love this idea of using a white pumpkin with sage green and white flower arrangements in the middle of two beautiful candle stands with candles seriously gives me some elegant vibes.
10. Fall white pumpkin centerpiece with candle and flowers
Super easy white pumpkin fall décor idea from meaningfulmama.com. This can easily be set up on a mantle or another beautiful centerpiece idea for Thanksgiving.
11. No carve pumpkin people cute for kids to enjoy
Cute and stylish idea for the little lady in your life you can create this pumpkin really easily with things around the house and it would be so cute to put a pumpkin like this on your daughter's dresser for the holidays.
12. On the mantle sitting pretty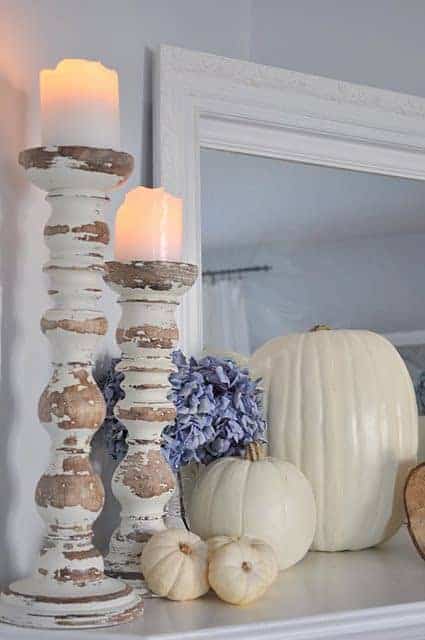 These kind of pictures always make me wish I had a mantle because this right here is gorgeous and I would recreate this over and over again.
13. Using string lights to make it sprakle
What is home décor these days without fairy lights? Cue the fairy lights all over the pumpkins please.
14. White pumpkin Halloween tiered trey
Such a beautiful idea for a white pumpkin tiered tray. The little Boo decorated pumpkin really tops off the Halloween spirit in this décor placement.
15. Sand and sisal white pumpkin centerpiece
This is a gorgeous contemporary white pumpkin décor idea with Cecil and sand giving me fall beach vibes over here.
Thanks so much for stopping by and I hope you enjoyed these awesome white pumpkin decoration ideas for fall.
Don't forget to pin anything that you liked or this pin down below and tag me in your recreations!