This post contains affiliate links.
October is associated with autumn but there is one very special day. The last day of October is October 31 and it's all about Halloween.
Halloween is one of the most famous festivals not just in the United States but all over the world. Believed widely to be associated with the Celtic festivals, Halloween is full of activities.
Main activities on Halloween
Some of the many activities on Halloween are trick-or-treating, attending some Halloween costume parties, carving pumpkins in the forms of jack-o'-lanterns, sharing scary stories and pranks, visiting various haunted places and watching horror movies.
This day is super special for children. They get to dress up and do trick-or-treat which is why they love it so much. When it comes to trick-or-treating, every household must be ready. Here are some ideas for Halloween snacks for kids so that you can surprise your upcoming guests.
Halloween snacks for your little ones:
• Devilled eggs (with spiders)
(source)
Perhaps some of the most famous Halloween snacks are the devilled eggs. If you want to add a twist, use olives and make spiders over them. They are not only super delicious but very artistic as well. The recipe is not hard at all and you can make them very quickly.
• Strawberry ghosts covered in chocolate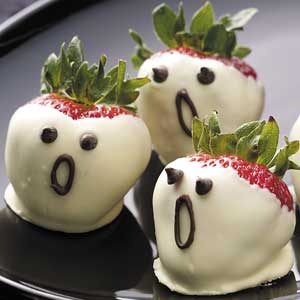 (source)
They are not only looking scary but they are super delicious as well. The Strawberry ghosts are easy to make. All you need to do is melt the chocolate start dipping the strawberries in it. Make sure you set either parchment paper or wax. You can finish with some candy eyes to make them more scary-like.
• Marshmallow pops
(source)
The Halloween version of these Marshmallow pops is very special. All you need to do is some pretzel sticks, marshmallows and green and orange candy melts. They're yummy and they can be a great snack.
• Popcorn hands
(source)
If you are a fan of horror movies, you'll like this one. For the Halloween popcorn hands, you will need a glove, popcorn, and some candy corn.
When you fill the glove with popcorn and leave the candy corn as nails, it literally looks like something out of a horror movie. Add some spider rings on the fingers and it will be even better.
• Floating mummy soda
(source)
It's not Halloween if there is no mummy. One of the best refreshments that you can offer is the Halloween floating mummy soda which can leave your guests in awe and give them pleasure at the same time.
• Mini bat chocolate treats
(source)
Everyone loves candy. If you are looking for something creative and weird then you should try the mini bat treats. They not only look but taste amazing. Not to mention that they can lead to obsession as well. All you need to do is Oreo cookies, mini Reese's cups, a cream cheese frosting that's pre-made and edible eyes.
These are just some of the many snacks that you can offer to your visitors for Halloween. You have plenty of options and the choice is yours.