This post contains affiliate links.
With Thanksgiving around the corner, planning is underway! If you have kids or are going to be hosting people with kids, then you'll want to think about snack options.
Thanksgiving Snacks for kids will help to tide them over if the meal is delayed or they need a mid-morning or mid-afternoon snack. If you're not sure what to make, these are a few fun ideas that are also seasonal.
Apple Lollipops
These fun snacks can be made ahead of time and kept in the fridge. Nothing says fall more than a seasonal fruit like apples. Most kids also like apple slices and they're easy to make!
Cup up applies into wedges and sticks a lollipop stick into each wedge. Then you can decorate them with greek yogurt or peanut butter and freeze them. You can also use melted chocolate or melted caramel and nuts for a more sweet treat. The sky is the limit here so don't be afraid to add fun additions.
Turkey Cheese Snack
Most kids like cheese as a snack and even the adults may want some of these! Make sure you have the following handy:
Baby bell cheeseAlmond sliversCheddar Cheese Wedges
Peel the cheese and use the almond slivers to create cover one half of the cheese. Cut the rest of the cheese into small wedges and use this to form the beak. You can also add other decorations to make it look more turkey like but this is both simple and fun.
Harvest Trail Mix
A trail mix is a chock full of healthy ingredients while also being fun to eat. It's easy to throw together before the event and you can leave this snack out all day. You can also customize the snack mix with your favorite ingredients but these are a few ideas:
Pumpkin SeedsOatsDried CranberriesWalnutsMaple SyrupPumpkin pie spice
Add all ingredients together and add as much or as little of each ingredient as desired. After mixing, add a drizzle of maple syrup and sprinkle with the pumpkin pie spice lightly. Spread onto a greased pan and bake at 250 degrees for just a few minutes. Cool the trail mix and store it in an airtight container until ready for use.
Mac and Cheese Cups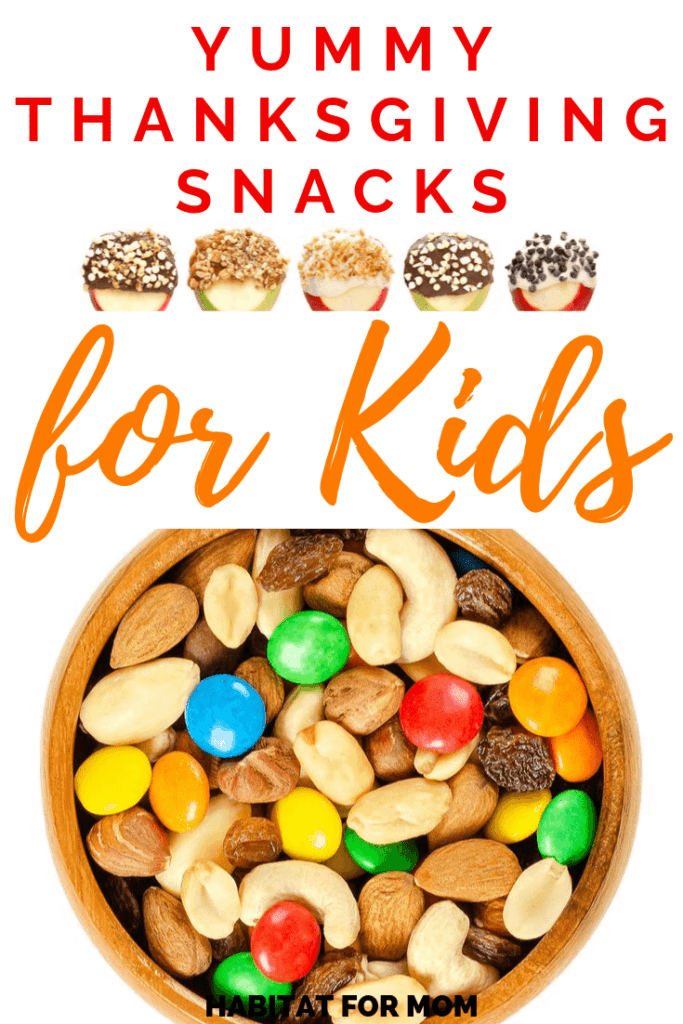 What makes these macaroni and cheese cups great is that they can be made ahead of time and then pulled out to heat quickly. Kids also love the single portion size. Make your favorite macaroni and cheese recipe and then spoon into muffin tins.
Add extra grated cheese on top and bake until the cheese becomes firm, although avoid burning. Shells work best but you can use whatever pasta you prefer. These can also be made a few days in advance and stored in the fridge.
Although having snacks on hand is probably a must for Thanksgiving day, you don't have to stress about what you're going to serve. Use these ideas to have snacks for kids that are both fun and healthy. They'll be so fun that even the adults may want to get some!