This post contains affiliate links.
[et_pb_section fb_built="1″ _builder_version="3.0.47″ custom_padding="32.4531px|0px|0|0px"][et_pb_row custom_padding="13px|0px|0px|0px" _builder_version="3.0.47″ background_size="initial" background_position="top_left" background_repeat="repeat"][et_pb_column type="4_4″ _builder_version="3.0.47″][et_pb_code][/et_pb_code][et_pb_text _builder_version="3.12.2″ text_font_size_last_edited="on|desktop" background_size="initial" background_position="top_left" background_repeat="repeat" inline_fonts="Acme"]
50+ Inspirational Quotes For Stressed Out New Moms
Being a new mommy can be quite stressful sometimes.
The baby is crying and you're running around like a chicken with no head on its shoulders.
Not to mention you're sleep deprived. And you probably haven't taken a shower either.
(sometimes its a struggle) So when I am feeling stressed out I love reading inspirational quotes that instantly boost my mood.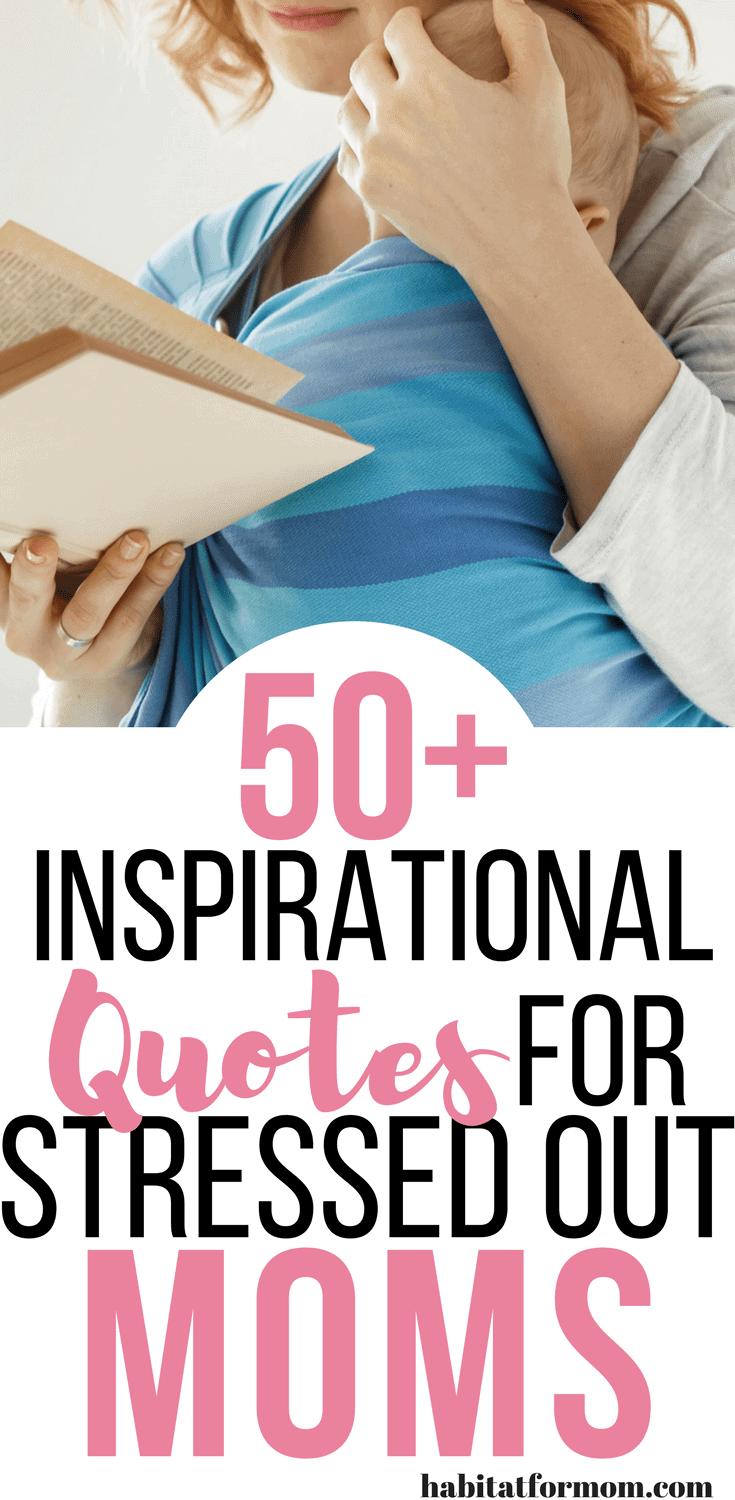 YOU MAY ALSO LIKE:
What You Need to do When You Find Out You're Pregnant
New Mom Advice Plus 3 Valuable Tips To Get More Sleep
What You Need to do in Your Second Trimester
I have gathered up some useful quotes for inspiration, love, & reminders of what a wonderful mom you really are.
I hope these quotes find you well and help you overcome some of the stress that comes with being a new mommy…
The Inspiration:
In youth we learn, in age we understand.
Whoever takes the child by the hand, takes the mother by the heart.
The soul is healed by being with children.
It is not stress that kills us, it is our reaction to it.
A baby is something you carry inside you for nine months, in your arms for three years, and in your heart until the day you die.
Making the decision to have a baby is momentous. It is to decide forever to have your heart go walking around outside your body.
A baby fills a place in your heart that you never knew was empty.
Pregnancy is getting company inside one's skin.
Birthing is the most profound initiation to spirituality a woman can have.
There is no way out of the experience except through it because it is not really your experience at all but the babies. Your body is the child's instrument of birth.
When you moved, I felt squeezed with a wild infatuation and protectiveness. We are one. Nothing, not even death, can change that.
Never let a problem to be solved become more important than the person to be loved.
Life is 10% what happens to you and ninety 90% how you react to it.
Do what you feeling your heart to be right for you will be criticized anyway.
Children need love especially when they do not deserve it.
If you want your children to turn out well spend twice as much time with them and half as much money.
Don't worry about who doesn't like you who has more or who's doing what.
Don't make a bad day make you feel like you have a bad life.
Never let your kids walk away without a hug and a kiss xoxo.
There is no way to be a perfect mother. but I'm a million ways to be a good one.
Becoming a new mommy makes you realize you can do almost anything…. one handed.
There'll be so many times where you feel like you failed but in the eyes, heart, and mind your child, you are a supermom!
Motherhood has the greatest potential influence on human life.
Giving birth as an ecstatic jubilant adventure not available to males.
I believe in love at first sight because I am a mom.
Labor is the only blind date where you know you will meet the level of your life.
A baby is born with I need to be loved and never outgrows it.
I am proud of many things in life but nothing beats being a mother.
Just when you think you know love something little comes along and shows you just how big it really is.
Let me love you little more before you're not little anymore.
In raising my children I might lose my mind but I found my soul.
Like anything else, you'll never truly understand until it happens to you, And even then, It takes a while to understand it.
A mothers joy begins when new life is stirring inside – when a tiny heartbeat is heard for the very first time – and a playful kick reminds her that she s never alone.
Children don't need more things the best toy a child can have is when a parent gets down on the floor and plays with them.
when life puts you in tough situations don't say why me? Just say TRY ME!
Life is not about waiting for the storm to pass but learning how to dance in the rain.
Don't let the noise of other peoples opinions drown out your inner voice.
Believe you can and you're halfway there.
You have to fight through some bad days to earn the best days of your life.
Today's accomplishments were yesterday's impossibilities.
Don't let you're struggle become your identity.
When it rains look for rainbows and when it's dark look for stars.
You will never have this day again so make it count.
Strive for progress, He is not perfection.
An obstacle is often a stepping stone.
Life is not an exact science it is an art.
Everything that you are going through is preparing you for what you asked for.
You have within you right now everything you need to deal with to deal with whatever the world throws at you.
Happiness is excepting where you are in life and making the most out of every day.
Always trust your instincts they are the messages of your soul they are the and are part of you that strives to make you whole.
Difficult roads often lead to beautiful destinations.
Take pride in how far you've come, have faith in how far you'll go.
Grow through what you go through.
Don't count the days make the days count.
If you liked this post on 50+ Inspirational Quotes For Stressed Out New Moms or have any questions please leave a comment down below!
[/et_pb_text][/et_pb_column][/et_pb_row][/et_pb_section]