This post contains affiliate links.
Whether it is your first baby or you are doing it all over again, pregnancy is overwhelming.
You are going to be dealing with astronomical levels of mixed emotions.
This can make it difficult to stay on top of everything that must be done and figured out before your due date especially.
There is a multitude of different products on the market designed to help.
One of the most prominent is one we are going to discuss in this post…
So, without further ado, let's talk about the Oh Baby Pregnancy Planner!
What is the Oh Baby Pregnancy Planner?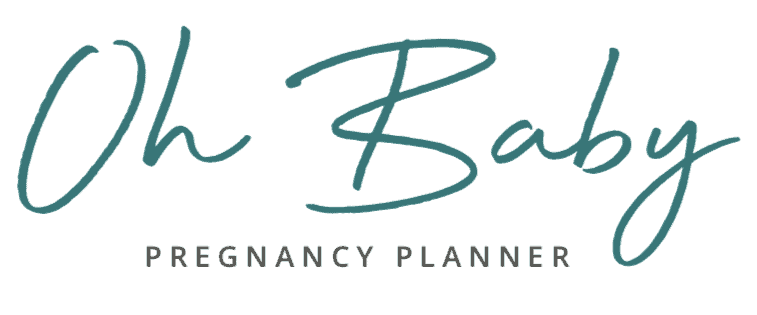 It is the most complete and thorough guide to being pregnant, basically. It will walk you through what you need to do every single step of the way.
It will also help you answer some of the 'burning' questions that you may have about pregnancy. (like what to get for baby, or how to prepare for maternity leave)
Sure, some of the information included in this planner can be found out on the internet, but, you won't find it all packed into one amazing super simple to use guide like this right here…
With the Oh Baby Pregnancy Planner, you will be satisfyingly organized with every aspect of pregnancy. You will have your hands on the most comprehensive planner that covers above and beyond any other one I have seen by far.
There are various components to the planner.
While it is impossible for me to go in-depth on every section in this planner review, I do want to give you a brief overview of what you can expect.
What's Inside The Oh Baby Pregnancy Planner?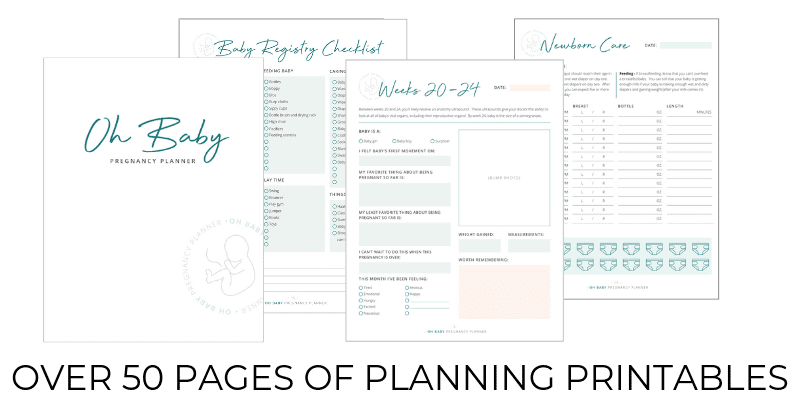 Trimester 'To Do' lists: these will guide you through what you need to do through each trimester.
Checklist of 'Must-Haves': this will talk you through what you need to buy to deal with pregnancy, as well as a few months afterward i.e. breastfeeding.
Questions that you should ask medical practitioners guiding you through your pregnancy e.g. OBGYNs and the hospital.
Guide to preparing your home for a baby
Guide to budgeting for a family
Preparation sheets for giving birth: This includes information on birth, as well as dealing with the first few days with your newborn.
It really covers a ton of crucial information, you get lots of checklists and go-to guides and fill in the blank sheets. It also has the best journal prompts for a super memorable pregnancy.
The Oh Baby Pregnancy Planner will help you stay organized and on task through every stage of pregnancy. Without a doubt.
PROS:
It is a PDF printable that can be downloaded and printed out as many times as you want
covers everything to keep you organized and on top of it as a new expectant mama
With how many resources this one planner provides its the most affordable on the market hands down
Thinks of everything so you don't have to
Helps moms thrive during pregnancy, document their journey to motherhood, and simplify life with a newborn
The pregnancy journal is literally the cutest one I've ever seen
The "letters from mommy and daddy" is extremely unique and such a great idea
I can't get enough of how life-saving the newborn baby sample schedules are
Babysitter instructions are on point
So many go-to and actionable goodies it makes you squeal with delight!
CONS:
Printing could be an extra cost if you do not have a printer at home
May use a considerable amount of ink in your home printer
Need to buy your own folder or binder for it separately
Not for women who hate being organized and planning of any sort
Is absolutely worthless if you buy it and never actually use it
Is the Oh Baby Pregnancy Planner worth it?
Absolutely.
& I want to help you…
Yes. This information can be found online, but you have two issues with tracking it down:
It is tough to find in one place. You won't remember everything you need to tap into your favorite search engine. There's just so much info in all different directions it'll be impossible for you to put it all together on your own.
Seriously, the second point is why I absolutely recommend Oh Baby Pregnancy Planner.
It is packed full of questions that you would never have thought to ask but were actually important to ask.
For example; what you should be asking when touring a hospital or how to create a birth plan.
Since it is a digital product, it is incredibly affordable too. Just pay the price, and print it off – easy peasy!
Keep it in a folder, and you will have instant access to everything that you need to slay pregnancy and mom life!
A lot of effort has gone into making this planner. It is the best I have ever seen. The best part is that it's at a super low price right now – only $19.00!
If you want your pregnancy to be as stress-free as you can possibly make it.
If you want to answer burning questions.
If you like to plan everything down to a tee.
If you want to have the best resource out there for your pregnancy planning and journaling
Then Oh Baby Pregnancy Planner is for YOU 🙂
Who Created the Oh Baby Pregnancy Planner?
This planner was created by 2 amazing moms, Caitlin & Alexandra.
They are both great at what they do, helping women turn into badass mamas!
Guiding new and expectant moms like you is their greatest accomplishment and it really shows in this planner.
Mom-Approved
"I found it so overwhelming to scan all of the mommy articles on the internet to make sure as a first-time mom I wasn't missing anything. This planner is amazing and allows you to have everything you need all in one place, to make sure no stone is left unturned. With this planner, I felt 100% prepared before, during and after birth." – Ashlee, Mommy of 1 (see more reviews here)
Get started with planning your pregnancy today!