This post contains affiliate links.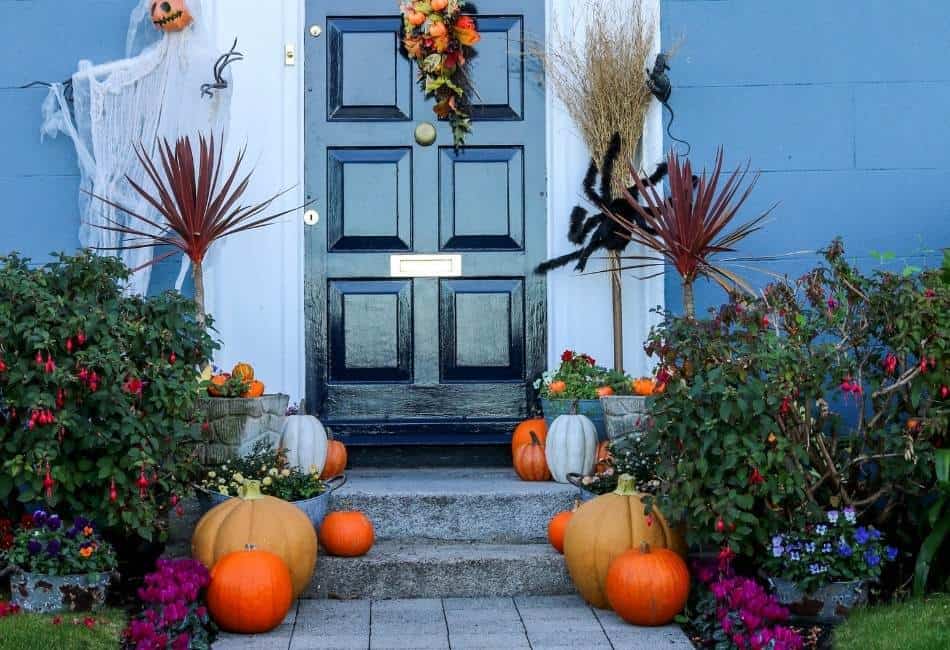 When it comes to Halloween I feel like the first thing that anyone thinks about doing is decorating their front porch.
After all, it is the first point of interest for trick or treaters. Whether you want to scare them or just create a welcoming Halloween candy grabbing moment, these beautiful and unique Halloween front porch décor ideas are perfect for anyone who wants to recreate them.
Honestly it doesn't even have to be that complicated if you can grab some leaves around your neighborhood and get some cute pumpkins on Amazon and some lighting I think anyone can pull off a super cute Halloween front porch.
If you are stuck on ideas and you just can't think of anything for this year, I've got you covered with these 13 spooky but cute Halloween front porch décor ideas.
Related: 13 Halloween Christmas Tree Ideas
1. Bats spiders and pumpkins Halloween front porch aesthetic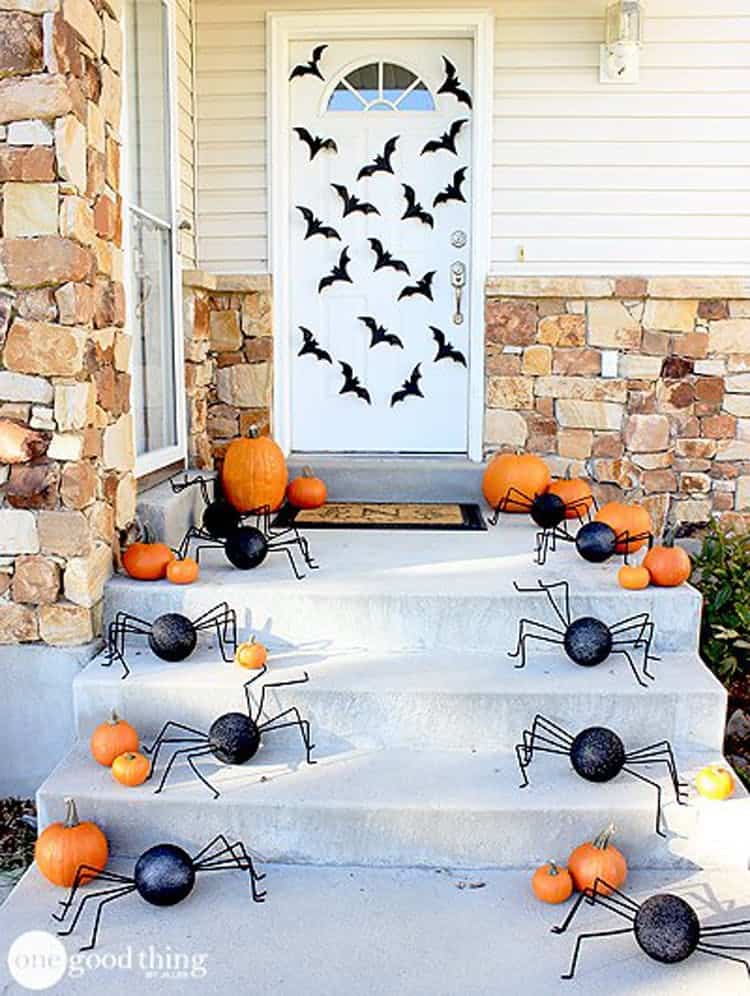 These bats on the door are so perfect, and the mini pumpkins and weird (but cute) looking DIY spiders are giving me spooky modern aesthetic vibes I didn't even know I had. Like, I want to do this now. Don't you?!
To make the spiders all you need are:
2. Simple farmhouse style leaves and pumpkins
If you are going for a old school fall slash Halloween style this is awesome. I think these boots honestly create a little bit of mystery as well as bring in the aspects of the fall season tide together with Halloween.
3. Cute scare crow Halloween front porch idea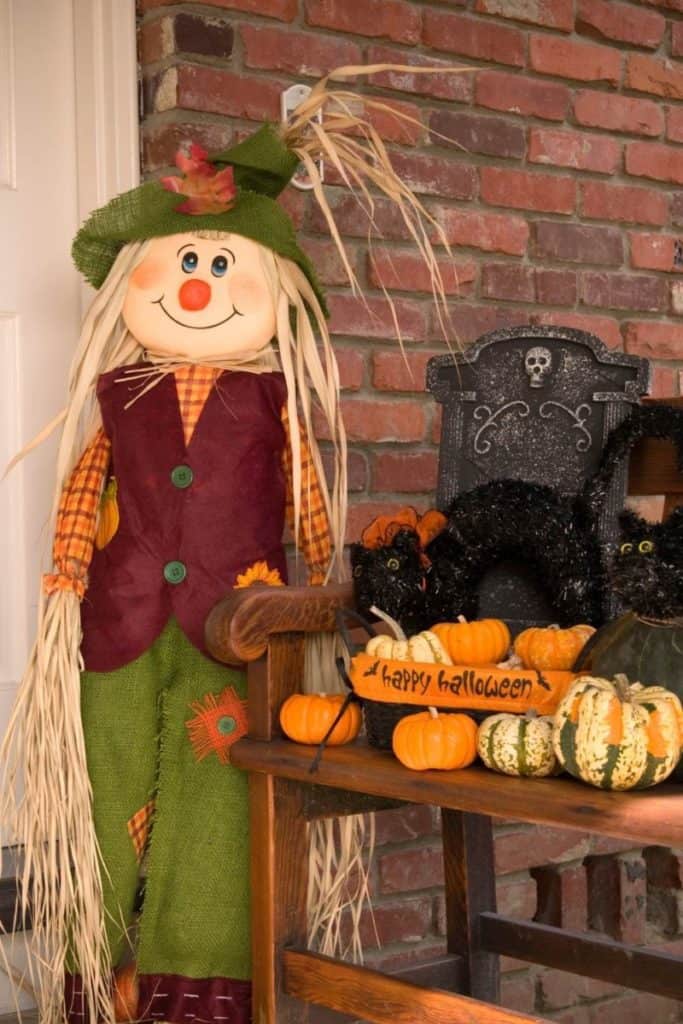 Love scarecrows during Halloween? The Black Cats tie it all together with the basket of pumpkins that says happy Halloween. I think this is a cute welcoming for trick or treaters of all ages.
4. Bats and skulls and cobwebs Oh my!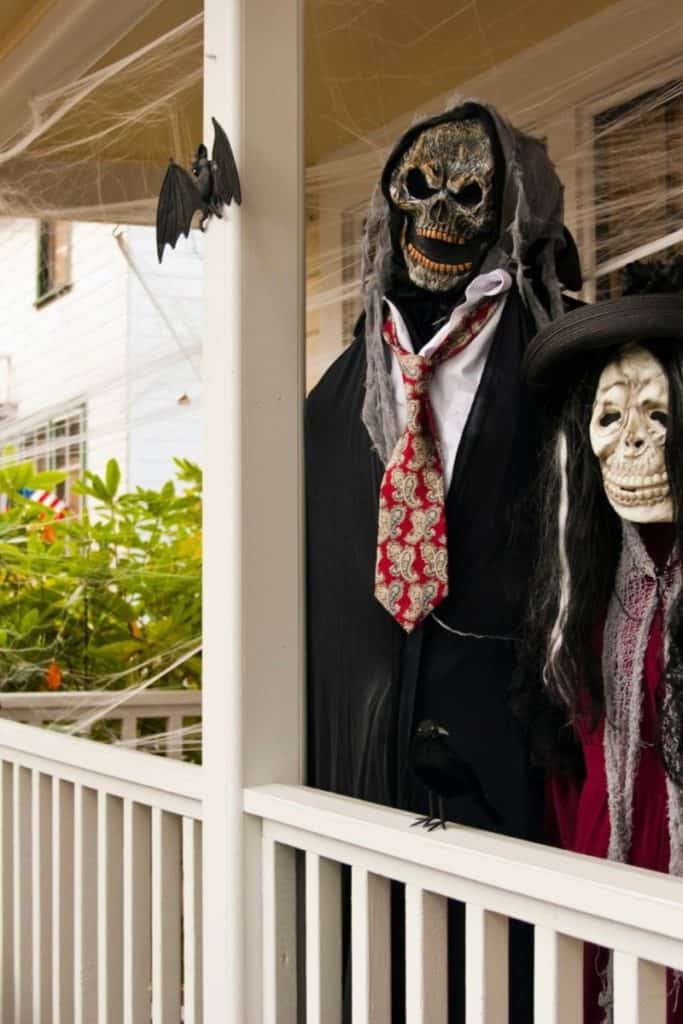 I'm more of a spooky scary Halloween person so this is right up my alley, I mean look at the crow sitting on the fence, its weird (creepy) but adorable at the same time. This would be also super cute if you had one of the skeletons holding a bowl of candy if you're not going to be home.
5. Halloween Décor down the steps
Some beautiful variety of different shapes and sizes pumpkins and flower arrangements with leaves that you can literally collect around your neighborhood is a super simple way to decorate your porch this Halloween.
6. Carved family pumpkins around the stairs
This is fun and simple to do with your family after a trip to the pumpkin patch. Killing two birds with one stone for a super traditional fmaily event that will double as décor items for the front porch.
7. Scary ghosts and skeletons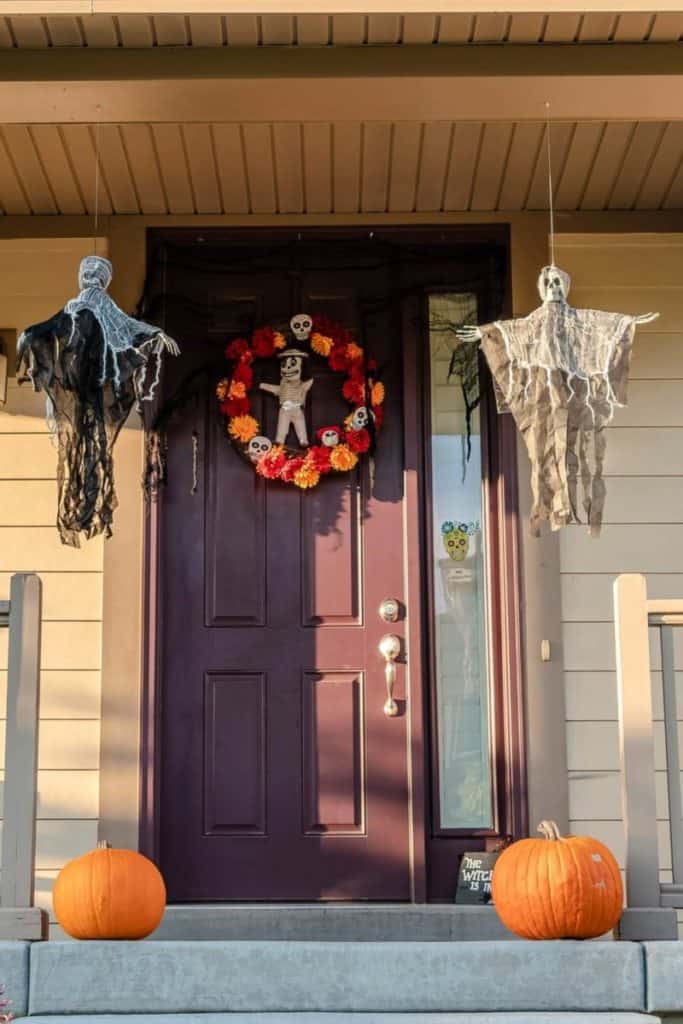 What's Halloween without some ghosts and skeletons? You can find things like this on Amazon and throw it up super quick for the holiday.
8. Simple but cute pumpkin statue
Easy peasy get at Amazon three tier pumpkin statue everyone will love.
9. Out of this world alien Halloween porch décor
Alien is super fun and easy to just throw on a table in front of the door. Playing in the picture seems a little bit far fetched for Halloween I found the perfect alien for your front porch on Amazon but you can get right now. Check it out here. (he really is perfect!)
10. Poisoned apple pumpkin carving and mysterious boots
Another super simple family front porch décor idea every will love. A half eaten apple is creepy don't you think? I do! What's the story behind the little girls boots? We shall never know…
11. Spiders ghosts and fall all wrapped into one porch
I am loving this idea so much. A spider web made out of tape on the floor is genius along with the trick or treat panels on the sides. That big spider above the door really freaks me out though! Perfect for Halloween.
12. Black and white witches bats and pumpkins
First of all, how adorable is this picture?! Second of all oh my goodness the modern Halloween aesthetic is so that is to die for! (no pun intended) These lanterns are a super genius touch to the look and I cant stop staring at it.
13. Witches corner front porch Halloween décor idea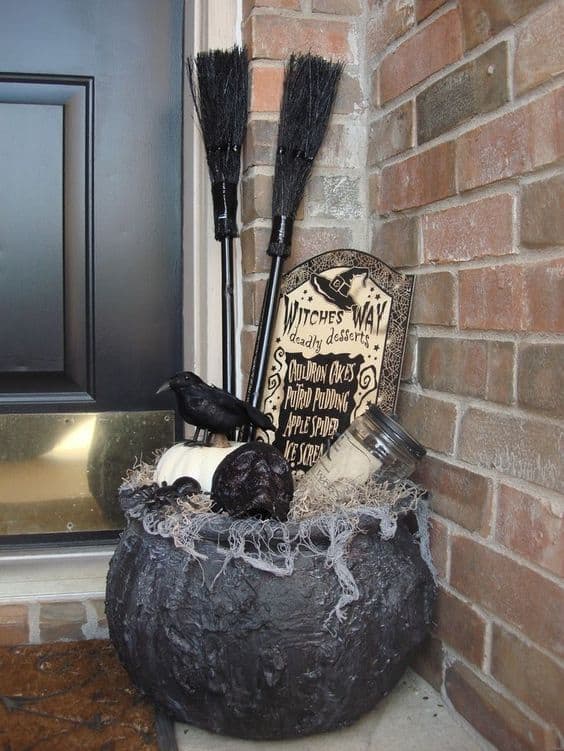 Can we just stop and take a minute to admire this Halloween aesthetic front porch idea. This is everything I wish I was wrapped into one little corner! (amuck amuck amuck!)
Thanks for checking out these Halloween ideas! I had fun collecting them and showing them to you, if you like them please pin them on Pinterest!
P.S. Share them with a friend who needs some awesome ideas for their front porch this Halloween season!