This post contains affiliate links.
As the school year ends and summer vacation begins, parents are already making preparations for the next school year.
A large number of students will be returning to a brick-and-mortar school setting after spending a school year in a virtual setting.
Many parents are faced with easing the transition for their child and calming their child's anxiety about returning to school.
If your child is transitioning back to a brick-and-mortar school after spending time in a distance learning setting, there are a few tips and tricks that you can use to help reduce their anxiety.
This guide will provide you with tips for helping your kid return to school after distance learning.
COMMUNICATE WITH YOUR CHILD
As the new school year approaches, have conversations with your kid about their feelings.
Ask questions and offer positive advice.
Don't make your child feel like they're overreacting, especially when it comes to acceptance from their peers.
Kids are nervous about reconnecting with old friends or meeting new friends when they have been segregated for so long.
Encourage your child to reconnect with old friends before school starts.
Make sure to keep these lines of communication open beyond the first day of school.
Some kids take longer than others to acclimate back to a traditional school setting.
Reassure them that you are there for them and they're not going through this alone.
TRICK- Give them a stone or another small object to carry around that reminds them of you.
This will help with feelings of being alone.
ATTEND OPEN HOUSES AND MEET WITH TEACHERS BEFORE SCHOOL STARTS
Depending on your child's school, you may be able to meet with their teachers before school starts or during the first week of school through an open house.
An open house is an opportunity for you to get to know your child's teachers and what is expected of your child.
Ask their teacher(s) questions especially if you know that it is a course your child struggled with when they were doing distance learning.
DEVELOP AN "IN-SCHOOL" ROUTINE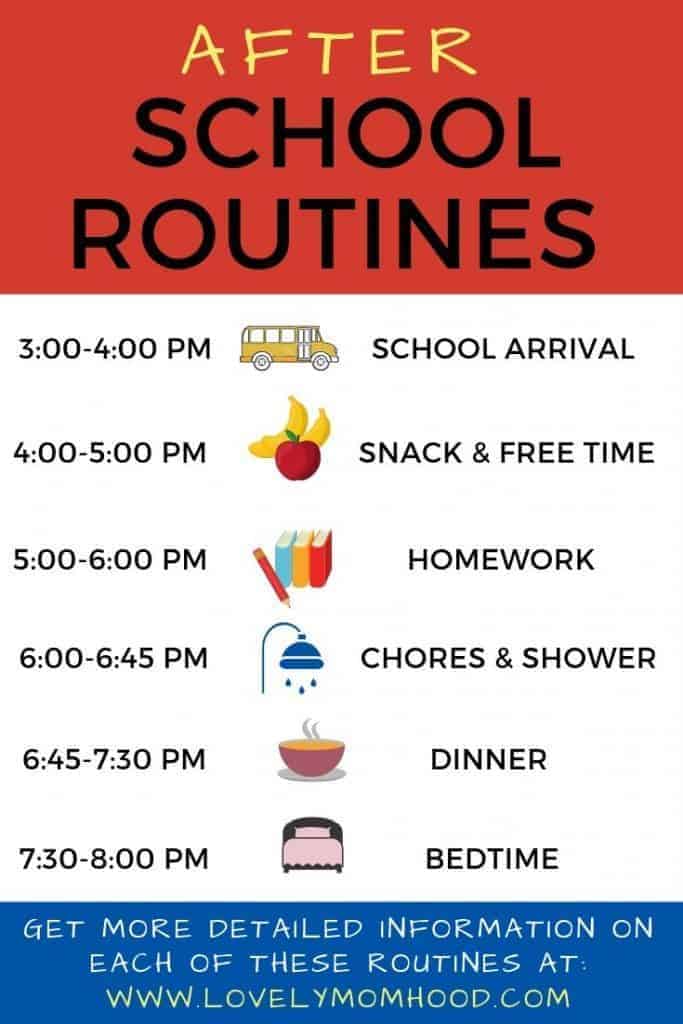 An "in-school" routine consists of separate guidelines that your child should follow when they have school the next day.
Be consistent with what time your kid wakes up and goes to bed.
Make sure to limit screen time by setting the hours that your child is able to watch tv, play video games, or use their phones, tablets, or laptops.
Too much screen time can be distracting and has been known to lead to anxiety in kids.
PLAN AHEAD OF TIME/ PRACTICE
When a child is unprepared or rushing around trying to find what they need in the morning they can get stressed out.
Encourage your child to plan ahead of time.
This can include preparing their lunch the night before, preparing a checklist of what is needed in the morning for school, and making sure everything is in place before going to bed at night.
After you have put together a routine, ease your child into it by practicing and doing a trial run before school starts.
This will get your child in the habit of making preparations ahead of time which will make it easier for them to get ready for school in the morning.
INQUIRE ABOUT EXTRACURRICULAR ACTIVITIES OR AFTER-SCHOOL CLUBS OFFERED BY THE SCHOOL
The biggest disadvantage of distance learning is feeling alone and isolated.
If your child has anxiety about fitting in, meeting new people, or not knowing anyone, check with their school about clubs and activities that may interest your kid.
Some schools offer summer programs for these clubs and activities that will give your child a head start on the social scene.
GET ORGANIZED/BE PREPARED
Getting organized for the school year goes hand in hand with planning ahead.
Set up space where your child can set up a homework station.
Make sure that they have the supplies that they need to do their homework.
Office supply stores usually have discounts on supplies right before school starts.
Parents of younger kids are often given a school supply list before school starts or on the first day of school.
Keep the same supplies on-hand at home for projects or homework assignments they are given.
Set up an area in the home where you can place a calendar, corkboard, and/or a dry erase board to jot down important reminders or to place notes received from the school.
Signs of Anxiety and Stress
If your child has difficulty communicating their feelings with you, there are signs that indicate that they are nervous and/or anxious about the upcoming school year.
Here are a few signs that your child may display:
Changes in behavior- this includes crying spells, anger, negativity, and clinginess.
Unable to eat and/or sleep
Inability to focus on a task
Complains of a headache, stomach, or other types of pain
Expressing negativity through thoughts or becoming worrisome.
Being on edge or restless
It's important to pay attention to your child's behavior so it can be addressed immediately to avoid affecting other aspects of your child's life.
If you notice your child displaying any of the signs mentioned, encourage your kid to open up to you.
Reasons Your Child Is Stressed
When transitioning back to a traditional school setting there are several factors that may contribute to your child's stress and anxiety.
This may include the following:
Their need to fit in with others(i.e.their appearance)
Changes in their learning atmosphere
Growing apart from close friends.
Being the new kid in school
Being picked on or harassed by others
Fear of the unknown
Not being prepared
Bottom Line
Not all kids will transition easily and you need to be prepared to help your child through this.
After reading this guide, you should have gained an understanding of recognizing signs of anxiety, reasons for the anxiety, and tips for helping your kid transition.
If your child is still experiencing anxiety and stress after the first month of school, you may need to speak with your child's doctor or seek outside professional help.
This will help determine if there is an underlying issue causing the anxiety and stress.