This post contains affiliate links.
Also known as the courgette, the Zucchini creates a puree with a very subtle flavor as well as a thin consistency that is perfect and ideal for introducing solids.
In addition to the fact that zucchini is amazing, it is also easy to digest and comes with full nutrients.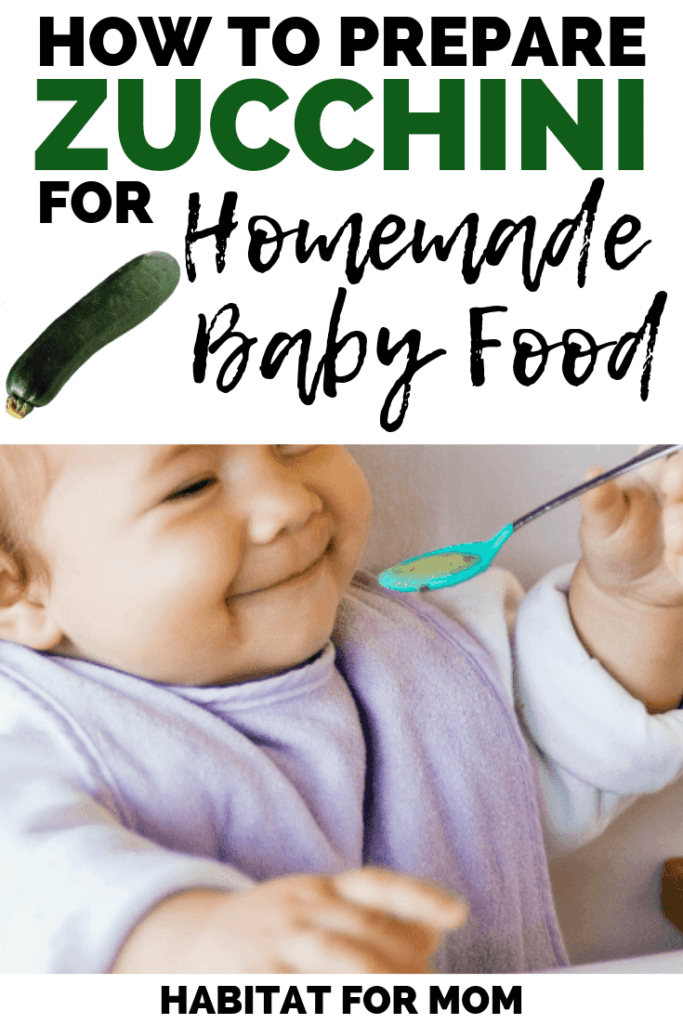 Are you looking to add a little bit of green to your baby's diet?
Then try this amazing puree.
To some people, the zucchini is known as the Italian squash and then to others, it is known as the courgette.
The zucchini looks just like a cucumber both in color and shape.
For the best taste, you should get one that is between 6 to 8 inches.
Inside the zucchini is its meat "whitish-yellow or pale green"
Nutrients
The zucchini contains a high amount of calcium and magnesium which aids directly with the provision of solid bones.
The zucchini serves as a good source of vitamin B and C.
The zucchini is also high in dietary fiber as well as water content.
It contains a low amount of carbohydrate and sugar which makes it really easy for you to digest + also great for baby's tummy.
Related: 3 Amazing Sleepy Time Baby Food Recipes
Zucchini Puree for Baby
Are you looking to add a little bit of green to your baby's diet?
Then try this amazing puree.
This amazing summer squash "zucchini" is the best way to introduce and include vegetables to your baby's diet.
This squash brings out water when pureed, so you don't need any extra form of liquid in the blending process.
As your baby begins to grow and get older, you can then serve the zucchini thicker by adding other supplements as sweet potato, cereals etc. this recipe is intended and should be served to babies 6 months upwards.
Ingredients for Zucchini
1 medium-sized zucchini, trimmed and sliced
How to Prepare
Put a 1 inch (2.5 cm) of water in a saucepan like this one and place over medium-high heat and allow to boil, place your zucchini into a steamer basket and set it over the boiling water, then cover the pan.
Leave to steam properly until the zucchini gets very tender.
That will be for about 5 minutes
Turn the heat off, take out the steamer basket and then let the zucchini cool a little.
Puree it in a food processor or blender. (this one is our favorite!)
Related: 5 Easy Stage 1 Homemade Baby Food Recipes 4 – 6 Months
Make sure you puree it until the texture is right for your baby.
Get an airtight container like this one, put your pureed zucchini in it and refrigerate it for up to three days and in the case of refrigeration, you can do it for up to three months.
Storage Tip
Spoon it into ice-cube trays like these when making servings that are easy to thaw.
This makes it about ¾ cups in total (6 fl oz/180ml).
Related: 5 easy stage 1 homemade baby food recipes 4 – 6-month-olds
If you like this article or have any questions or concerns please leave a comment down below.
Make sure you share this with your friends as well!