This post contains affiliate links.
Hello! My name is Jennifer. I am a proud mom to one beautiful little boy and am dedicated to helping women like you live your best mom life!
I find solutions for YOU and share them everyday here on this blog… (like this super helpful class on how to introduce solids while maintaining your milk supply all of my mamas are loving)
Stage 1 baby food recipes for 4-6 month olds you can make at home
✅ this amazing homemade baby food maker is my readers favorite tool to make these recipes!
Congratulations! Your reading this because your lovely little one is about to get ready for some baby food!
Well, you have come to the right spot, Today I am going to give you our very favorite easy and simple to make homemade baby purees your baby will eat right up!
The best part is… It doesn't take long to make these! So you can definitely be sure that your baby is getting the right nutrition, no added flavors or preservatives, and even better?
Made with love ❤️
More baby food content I know you'll love:
Before we get started on the recipes though I would like to inform you of some allergies to be aware of at this stage. It is extremely important that you are wary of these ingredients when considering a new recipe…
Allergy foods to avoid before 6 months
peanuts
tree nuts
seeds
eggs
liver
fish
honey
cows milk
soft or unpasteurized foods
avoid adding salt or sugar to any recipes
Related: 3 Amazing Sleepy Time Baby Food Recipes
Homemade Baby Food Recipes:
Rice Cereal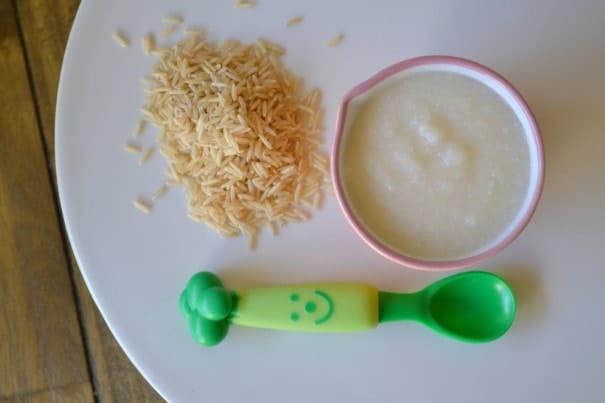 Rice cereal is one of the very first homemade baby food recipes I made for my son when he was ready for baby food. It really fills them up and has the potential to get them to sleep through the night which is always a big plus! You can also get fancy with it and add some other fruits to the mix as your baby gets acquainted with the new foods he or she is eating…
Found on Little Miss Momma
Apples + Cinnamon
Apples and cinnamon are perfect for a constipated baby. Also, because it is extremely healthy for your baby. Apples contain vitamins to help your baby grow big and strong. Some of the awesome benefits for your baby include Vitamin C, Vitamin K, Vitamin E, Calcium, Magnesium, Potassium, Iron and even some Protein!
Found on Baby Foodie
Related: How to Prepare Zucchini for Homemade Baby Food
Butternut Squash
Butternut squash is a great addition to babies' first foods! You can roast it to a tasty perfection and then puree it as thin as you desire. Butternut squash has great benefits which include Protein, Fiber, Calcium, Iron, Potassium, Folate, and Vitamin A!
Found on Food Recipe Search
Avocado Puree
Avocado is such a great source of nutrients for your baby's first foods! They offer close to 20 vitamins and minerals in every serving! Avocados include vitamins and minerals such as Vitamin K, Folate, Vitamin C, Pantothenic Acid, Potassium, Vitamin B6, and Vitamin E! Great for babies' skin, may even help with skin problems. Avocado also has amazing bone health benefits which will help your baby's bones grow strong!
Found on Picky Eater Blog
Banana Puree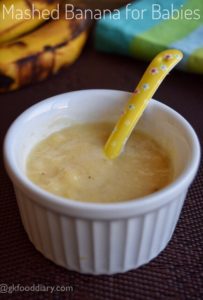 Oh, the almighty banana!! I mean who doesn't like these things? Bananas can also help with constipation and should always be in one of the baby's first homemade foods list! Bananas have tons of potassium in them. They also contain really good levels of fiber and protein. Not to mention they're so good! You can puree these for your baby and even add some cereal to it if you'd like, or maybe some strawberry puree and make it into a banana strawberry puree, that's sound amazing!
Found on GK Food Diary
Don't forget to grab this baby food maker and start making that homemade baby food mama! 🙂
Give this post a share if you liked it.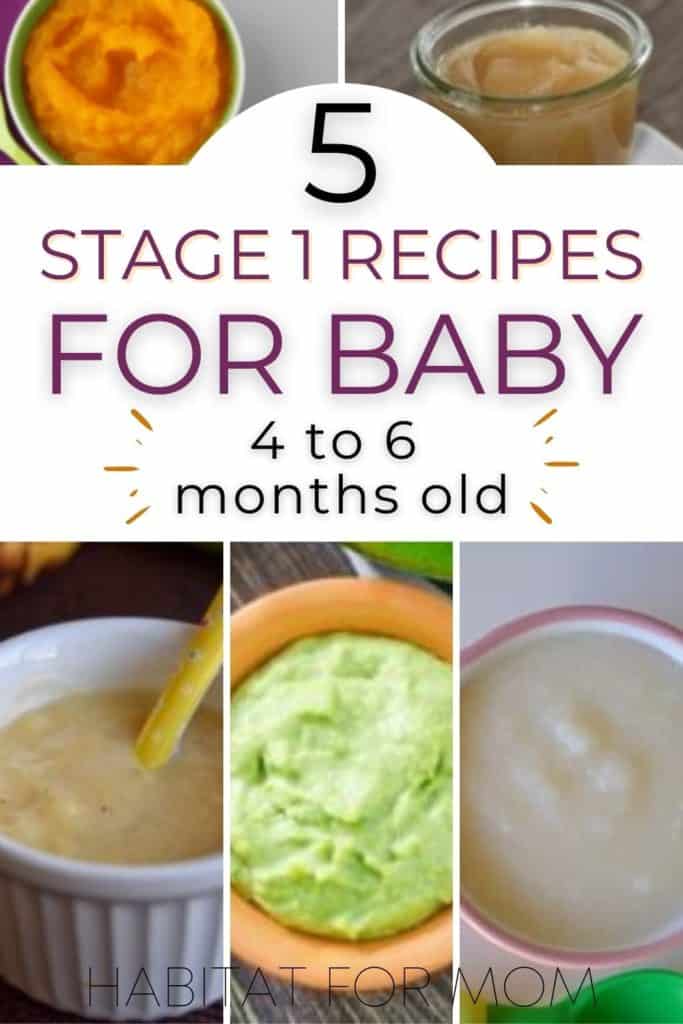 5 Easy Stage 1 Homemade Baby Food Recipes 4 – 6 Months