This post contains affiliate links.
A lot of things change in your life when a new baby arrives. Sleep schedules, work schedules and dates night all change, and so do family holidays and traditions.
You can still enjoy holiday traditions such as trick-or-treating, even with a newborn baby. With these strategies on how to survive trick-or-treat with a newborn, you can enjoy all the goodies and goblins that your heart (and stomach can handle) even while caring for your new baby.
Recommended: Newborn basics class for brand new moms
Safety First
Of course keeping your new baby safe it the top priority every day, including Halloween. Exercise common sense and implement safety precautions, just as you would with any young child enjoying the holiday.
Go trick-or-treating during daylight hours. Going door-to-door while it is light will help keep you and baby safe, especially while walking on sidewalks and crossing streets.
If you have other children with you, it will be easier to keep track of them in the light too. As an added bonus, people will be able to see your adorable newborn in costume if you go trick-or-treating during daylight hours.
Always make sure that the baby is warm enough. October weather can be cold and unpredictable, so be sure to choose a costume that can be adapted for colder than expected temperatures and even rain.
A full-bodied fleece costume is one example of a cozy and weather-appropriate costume. Make sure that the newborn is able to breathe comfortably without any masks or other types of restrictions.
Another thing to consider when taking your new baby trick-or-treating is germs! People love to touch babies and this becomes even more tempting when the baby is dressed in a cute costume.
Be sure to implement some strategies to help keep baby away from potentially harmful germs. You can keep baby close to you in a carrier or simply opt to keep baby out of costume and wrapped safe and snug in a blanket in a stroller.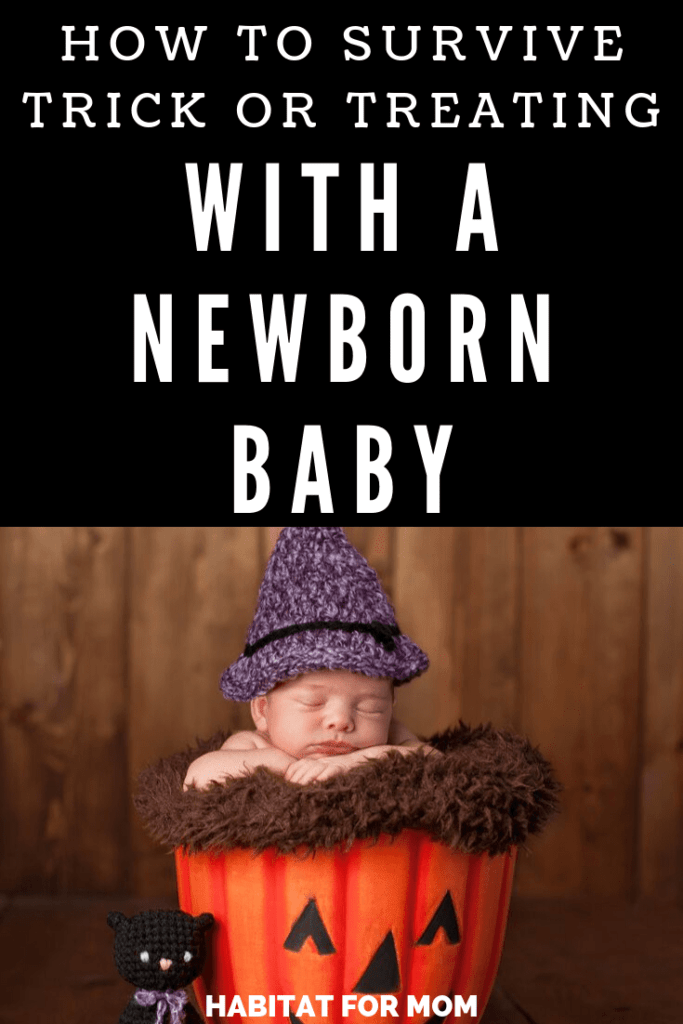 Costumes
If you decide to dress your baby in costume, get into the spirit of the holiday by dressing your family in themed costumes. Parents of a newborn can go as Mama, Papa, and Baby bear.
If you have other children, dress the family in characters from your favorite book or movie. And if you want to carry your newborn in a carrier or sling, consider a clever costume such as a mama kangaroo carrying her baby.
Don't look at the addition of a newborn as the end of your Halloween fun. Embrace the challenge of finding a costume theme that incorporates the newest member of your family.
Be practical in your costume choices. You may encounter the need for a diaper change or a spit-up. Make sure that the costume you choose is easy to unzip or takedown.
Consider throwing a second costume or a festive fall-themed sleeper into your diaper bag in case the first costume gets completely soiled.
Candy
Obviously your newborn is too young to enjoy candy this Halloween. Trick-or-treating as an adult with a newborn can be awkward at times. People may assume that you are using your baby to collect candy for yourself.
Consider forgoing the candy collection and just enjoy your neighbors' company and appreciate their decorations. It's likely that some of the people you visit will insist that you take some candy for "your baby" or will offer you a more adult treat, like a fresh-baked cookie.
Just enjoy the holiday without the candy and then go home to a few goodies that you purchased for yourself to enjoy at the end of the night.
Photographs
Don't forget to get plenty of photographs of baby's first Halloween. Don't wait until you are ready to walk out the door to capture your photos.
Schedule a photoshoot at a pumpkin patch or even in your own home with the baby in costume prior to Halloween. By taking your photos in advance, you are making sure that you capture some good images before the costume gets soiled.
This will also let you know if your baby will be comfortable in the costume so you don't have to deal with a fussy newborn while trying to trick-or-treat.
Whatever you decide to wear or wherever you decide to go on Halloween, just remember to enjoy the baby's first Halloween.
Have a flexible schedule and attitude so you can adjust your plans to accommodate your baby's needs and wants.
Keep safety as your top priority and try to relax and enjoy these precious memory-making events in your new baby's life.
Recommended read: How to survive trick or treating with a toddler
Subscribe to the YouTube channel
So you never miss a new article…