This post contains affiliate links.
---
non toxic acne products for pregnant women
Pregnancy is an excellent time to pamper a loved one so that they know you love and care for them.
One of the best gifts to get an expectant mother (or if you are the expectant mother and want to treat yourself) is pregnancy safe skin care for acne.
You can get them a Bump Box subscription to ensure they get products every month that make them feel special throughout their pregnancy.
Bump boxes have various skin care products that can help you deal with dry skin, pregnancy acne, and oily skin.
If you are dealing with oily skin or pregnancy acne, here are some products you can try.

The Cerave Moisturising cream is excellent for all skin types and when you are dealing with pregnancy acne.
It is a gentle, non-irritating formula you can use if you are having skin issues during pregnancy.
This Cerave Moisturising cream is manufactured with essential ceramides that keep your skin clear and healthy.
Dermatologists recommend it for use during pregnancy because it is allergen-free and does not block your pores.
You can buy this for yourself if you are struggling with acne or for a pregnant friend or spouse.

Many women get breakouts during pregnancy due to hormonal changes.
The Maternal Anti Blemish Face wash is safe for use during pregnancy and beyond.
It is safe to use on sensitive and acne-prone skin. If you are looking for a cruelty-free, plant-based product, this is the one for you. It does not contain phthalate or paraben but is made with green tea and lactic acid.
It is rich in antioxidants, which fight free radicals that cause your skin to lose its elasticity.
This excellent face wash will ensure your skin retains its youthful glow.
If you have been wondering how to deal with skin blemishes now that you are pregnant, consider buying the Maternal Anti-blemish Face Wash.

Belli creates some of the best pregnancy safe skin care for acne in the market today.
The Belli Acne Control Spot Treatment is safe to use during pregnancy, nursing, and beyond since it is made with colloidal Sulfur, Matricaria flower extract, tea tree oil, and other pregnancy safe ingredients.
The product is free of artificial dyes and perfumes and does not contain glycolic or salicylic acid.
The plant extracts in this product work quickly by penetrating the skin to control blemishes.
This product is not tested on animals and is gluten-free.
If you are concerned about spots and acne during your pregnancy, purchase Belli Acne Control Spot Treatment, and you can expect beautiful skin.

Belli Anti-Blemish Facial Wash is another excellent product from Belli that you should use with Belli Acne Control Spot Treatment.
It is made with pregnancy-safe constituents so that you can relax throughout your pregnancy.
Belli ensures that they do not use ingredients associated with miscarriages and breastfeeding problems in their products.
This face wash is a great gift item to purchase for your pregnant wife or inlaw to make them feel pampered.

Bella B Foaming Face Wash is excellent for oily skin. It is made especially for pregnant women with pregnancy-safe ingredients such as green tea, pomegranate, and acai berry.
It does not contain salicylic or alpha hydroxy acids and has natural emollients like shea butter and aloe.
This amazing foaming facial wash is high in facial cleansers that ensure your pores are not clogged, which causes breakouts and acne.
If you have been looking for the best gift to buy for yourself or your friend who just found out that she is pregnant, this is a great choice.

Earth Mother creates unique products for expectant mothers including, teas and oils.
They also make baby oils and pregnancy-safe deodorant.
A Little Something for Mama-to-Be Gift Set includes a Mother Earth Ginger Fresh Deodorant, Belly Butter, Belly Oil, Morning Wellness Body Wash, and Orange Ginger Lip Balm.
These are great products to help you feel pampered, made with pregnancy-safe ingredients, and are paraben-free.
It is a great value package to pick up for yourself or expectant friend worried about stretch marks as it includes Mother Earth's amazing Belly Oil.

Purifying Organic Facial Cleanser is made by Aleavia using 100% natural ingredients that include plant glycerin, sea salt, and aloe vera.
This product removes dirt, particles, and makeup, including waterproof makeup.
Since it is made with all-natural ingredients, it is safe to use during pregnancy.
All Aleavia products including the Purifying Organic Facial Cleanser, are cruelty-free, toxin-free, chemical-free, and do not contain artificial dyes or fragrances.
If you are looking for a product safe for everyone in your household, consider using Aleavia Purifying Organic Facial Cleanser.

Cliniganic's USDA Organic Jojoba Oil is 100% pure and has a slightly nutty scent. It is excellent for all skin types, and you can use it on both your face and hair.
This product does not contain any added ingredients or fragrances and is undiluted.
It does not contain GMOs and is cruelty-free.
If you wish to buy a product you can use from head to toe, the USDA Organic Jojoba Oil is an excellent purchase.
It is an excellent massage oil and can be used as a makeup remover.
Jojoba oil does not clog pores, which means you will not break out when using it, and it is rich in antioxidants.
Pampering your pregnant self is an important job, and skincare products are an excellent way to go.
I use jojoba oil for so much and I promise you this stuff is the best.
Pick non-toxic skincare for acne during pregnancy to ensure that both mother and child are safe.
in conclusion
Bump Boxes has created marvelous packages specially picked for each trimester.
They are toxin-free, chemical-free, and cruelty-free.
They include belly butter, facial skin care products, and other items designed to pamper expectant mothers.
Bump Boxes are affordable, and you can get a subscription tailored to your due date, so you feel pampered throughout your entire pregnancy.
Check out everything bump box has to offer here.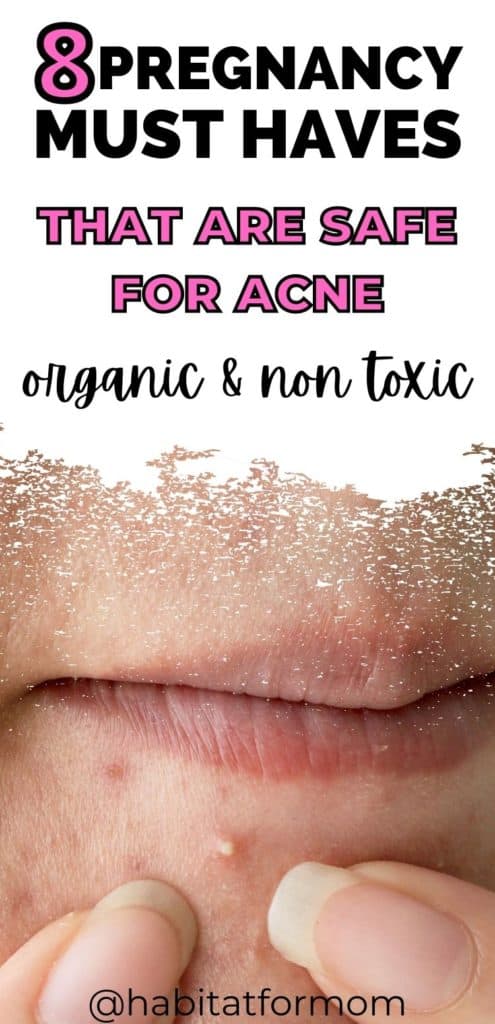 8 Best Pregnancy Skin Care Products for Acne