This post contains affiliate links.
---
Parents sharing small room with baby ideas
As wonderful as it is to welcome a new baby into your family, it can be a challenge to find room in your home for your special one.
Fortunately, there are many ideas you can utilize to create more room in your home for your new baby.
These ideas entail how you can share a small room in your home with your baby.
These ideas are simple and don't require as much effort as you might expect.
You can turn any small room into a place that is suitable for you and baby…
Create a Nursery Space
You can start by establishing a nursery space in one part of the room.
A portion of the floor plan in your space can be divided up for:
A dresser
A crib (check out these cribs that are pottery barn dupes!)
A lamp or other light source (this little chick one is adorable!)
A chair for you to sit on while observing your baby
Shelves and other decorative items; keep these over the dresser away from the crib
You can make a small bit of floor space in the middle of the room open for the baby to crawl around or to play with toys on. These amazing foam tiles are good to put down on the area you choose to do this in.
Make Your Dresser a Changing Table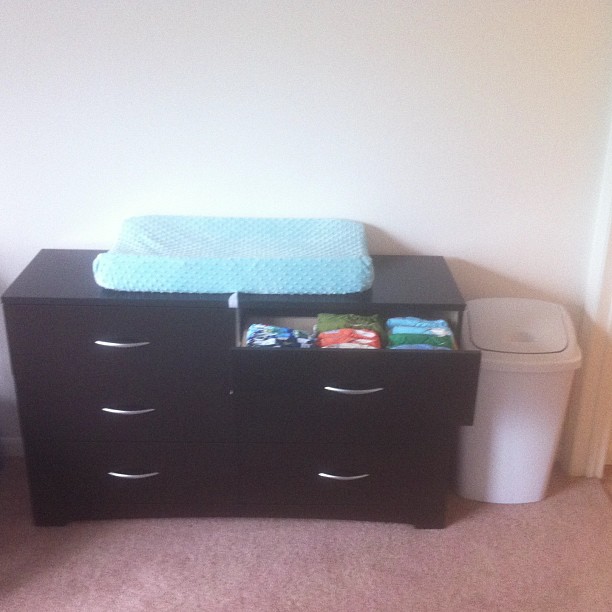 A changing table might seem appealing, but it can take up a good bit of space.
A better idea is to use the top of your dresser as a changing table.
The surface area on top of the baby's dresser should be the same size as an average changing table.
A standard table is about 20 inches wide by 26 inches long on average, while a changing pad will be a few inches shorter on each side.
Check your baby's dresser to see that the surface area is large enough to care for your baby's changing needs.
Use a Mini-Crib
You don't need to have a full-size crib in your baby's room. You can use a smaller crib instead.
A mini-crib is about 24 inches wide by 38 inches long on average. The total is smaller than a traditional 28×52 crib.
You can also invest in a mini-crib that features wheels (like the one I found on Amazon) for easy transport and movement.
Be sure the wheels have sturdy locks to keep it in place.
Your Closets Can Make a Difference
Many small rooms have closets that are just as small.
But it won't be hard to share a closet with your baby when you use a few smart tips:
Add dividers around your closet shelves to separate items.
You can use dividers to separate clothes that your baby has not grown into yet.
Add these door racks that can go on the back parts of the closet doors.
These racks can add extra storage space without crowding up the place.
Move out-of-season items to places outside your closet.
You can use vacuum-sealed bags when storing bulkier items like winter clothes.
You Could Also Remove the Closet Doors
There's also the option to remove the closet doors altogether.
By removing the doors, you'll have an easier time getting in and out of the closet.
It may be easier to store and access items in some of the tighter spots in that closet.
The act is an optional move, but it can work well.
Use a White Noise Machine
Since your baby would share a small room with others, it helps to make the room more comforting while the baby is asleep.
A white noise machine like this one would be ideal to utilize.
A white noise machine will produce a consistent noise that calms the listener.
It can facilitate rest and keep your baby from being easily agitated.
It can also cancel out noises from other parts of the house.
The machine will give everyone in your home a better night's sleep, as the baby will stay asleep and won't wake anyone up at night.
This machine is also small enough to fit anywhere, so you don't have to reserve lots of space when getting it ready.
Use Fabrics That Can Absorb Sounds
In addition to a white noise machine, you can also incorporate various fabrics in your room.
You can install cloth-wrapped wall or ceiling panels that can absorb sounds, for instance.
A rug or carpet like this comfy furry one does well with absorbing sounds.
There are a few ideas to use here:
Your carpet or rug should feature a foam or rubber backing.
Either material does well in absorbing sounds.
A cut-pile carpet has a fuzzy top and does better at absorbing sounds than a loop pile body.
Avoid synthetic materials in your rug or carpet, as they are not effective in absorbing noise.
Include Hidden Storage
It's easy to store your baby's items in hidden spots around a small room.
Here are a few ideas to note:
You can store clothes and other items in bins like these under a crib or bed.
You can cover everything with a crib or bed skirt.
Some furniture items may double as storage spaces.
A small footrest may include a detachable top that you can open to reveal a storage spot.
Hide Your Clutter With Curtains
You can keep the baby's space in your room looking tidy by adding some small curtains.
You can include curtains over storage areas and open and close them as necessary.
These curtains should be pleasing to the eyes and easy to access.
Those coverings can also keep dust and other things from getting in the way.
Include Nursery Stations Elsewhere
The last idea to follow entails spreading out your nursery to many parts of your home.
You can create multiple nursery stations around your home, including:
You can place hanging clothes for your child in a part of an existing closet, especially if you have empty space.
You can put a separate space for your child's toys in a recreation closet in your home.
Your child's bed linens may go in the same linen closet as what everyone else in the home uses.
Keep all your child's feeding items in the kitchen, preferably in a spot where sunlight won't spoil things.
Related baby nursery posts:
Nursery convertible cribs on a budget (that look like pottery barn)
Pin for later: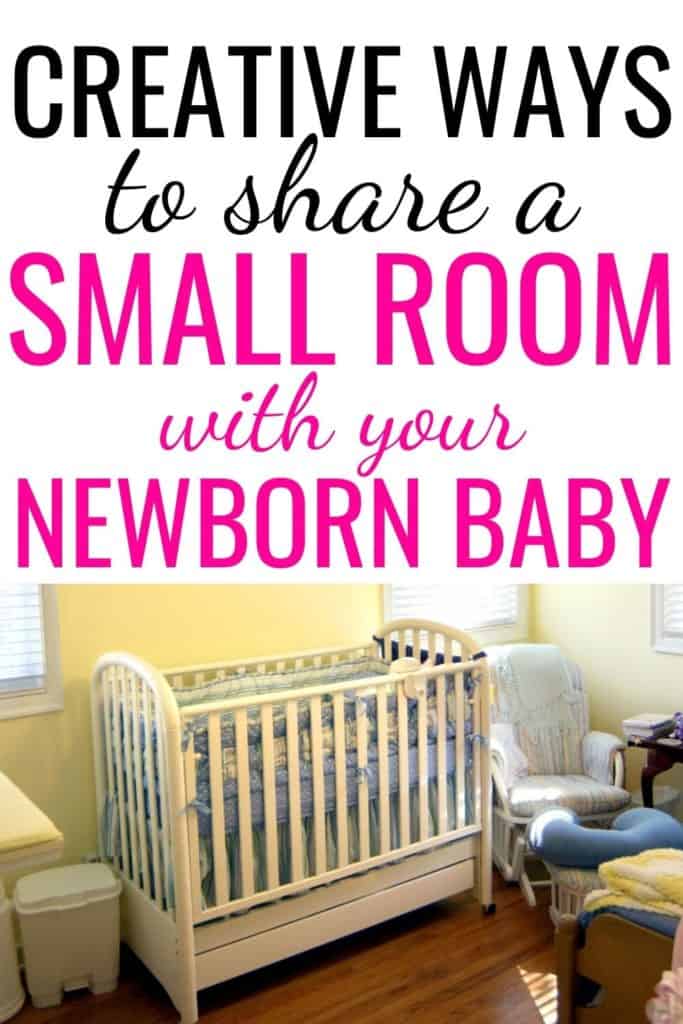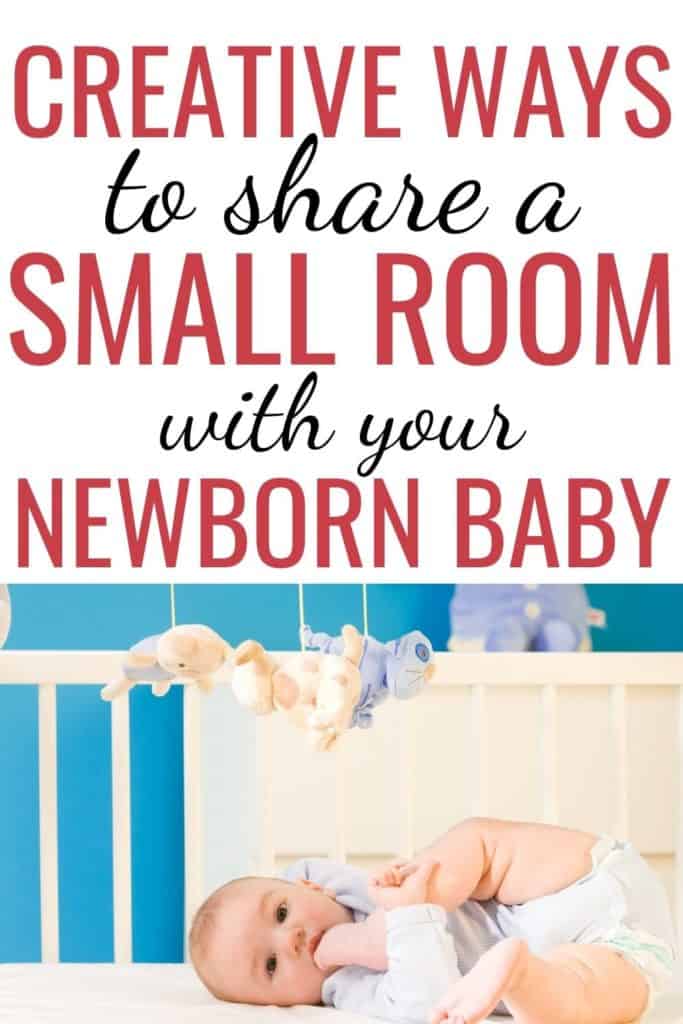 Creative Ideas for Sharing a Small Room with Your Baby