This post contains affiliate links.
hey there mama!
Do you need a simple way to write down your to-do lists during pregnancy?
Is this your first pregnancy and you just want to get organized because of pregnancy brain?
Putting pen to paper is the most efficient way to remember all your to-dos.
especially during pregnancy!
What better way to do this than having a pretty little pregnancy to-do list at your fingertips?
These pregnancy to-do lists are FREE to download, you don't even have to cough up an email address!
All I ask is for you to share this post in return. 😊
What's even great is that you can easily print these out as many times as you want, effortlessly share them with your friends and quickly get organized in style!
If you want to learn how to stay organized and on task with super helpful checklists and to-do lists for every stage of pregnancy (even the "4th trimester!") – Click here.
Pretty Little Pregnancy To-Do list
You can use this list for so many things and some ideas for this list are:
things to pack for the hospital
things to put on the baby registry
last minute stuff to get for the house
freezer meals to make
even things to do after the baby is born
Pretty Little Pregnancy Daily To-Do List
This list is self-explanatory.
Maybe you want to write out your daily to-do list the night before or make it part of your morning routine. This checklist is a must-have for everyday use!
Pretty Little Pregnancy Wish List
This is a BONUS checklist because I appreciate each and every one of my readers (you!)
Your pregnant, you have so many things to do…
It is also important to prioritize your wishes as well!

You can use this list to write down things like:
a birth plan outline
rules for visitors in the hospital + at home
things you really want for yourself and baby that you haven't gotten yet
things you want your partner to help with
Final Thoughts
I hope you love these to-do lists as much as I do mama!
They are simple yet actionable checklists to quickly help with staying organized during pregnancy.
PIN FOR LATER: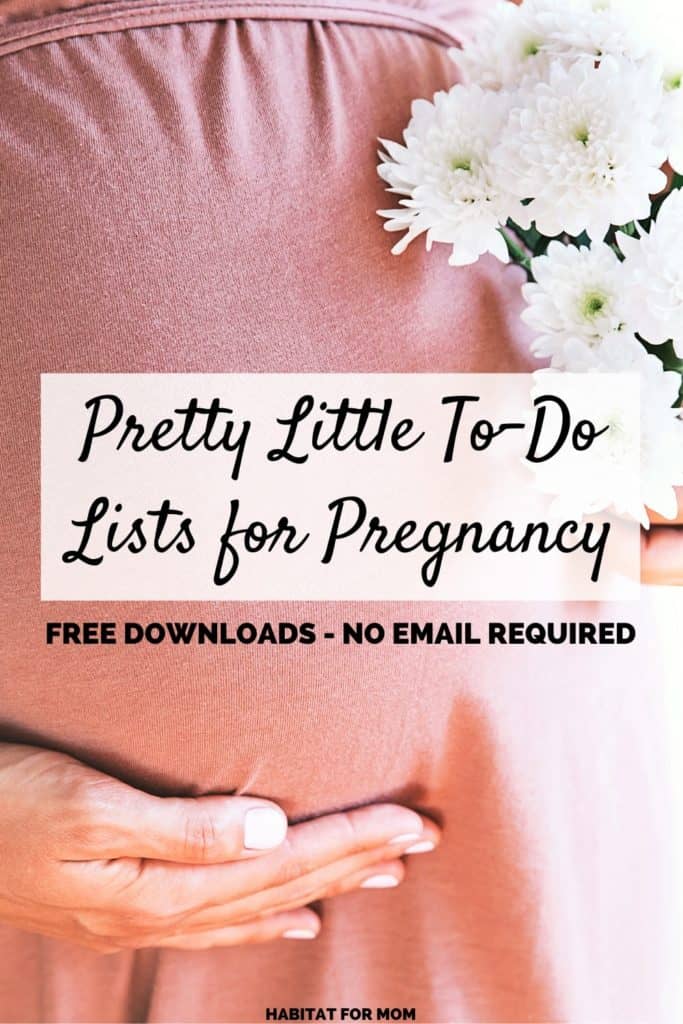 You can share these pretty little pregnancy to do list printables with your social media accounts like Pinterest, Facebook, Twitter, and Instagram! (even any pregnancy facebook groups you are part of if it is allowed)
>>> See my Oh Baby Pregnancy Planner Review here <<<
Thanks so much! 😘