This post contains affiliate links.
---
Positive Thinking for Pregnancy
Pregnancy is harder than it appears to be, we often watch other pregnant women doing things that look completely average when they are really doing a truly miraculous and amazing thing, creating life!
But it really doesn't feel that way sometimes especially if we are the ones that get swollen feet and early stretch marks… and what about morning sickness?! ugh.
Readers love: 6 super important things I wish I did in the beginning of my pregnancy
Staying positive is necessary for your mental and bodily awareness.
Being able to be stress-free and comfortable is important for a healthy pregnancy.
So we need to find out how to stay positive during pregnancy.
Treat Your Mind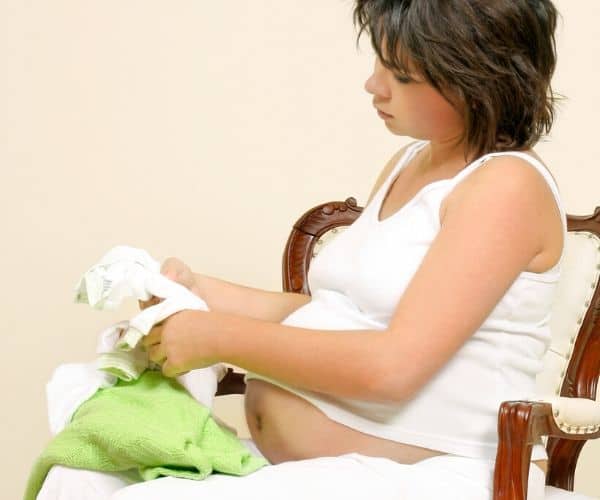 Prepare for baby and document your pregnancy journey
Conualy preparing for baby everyday will get you super excited for when baby comes. Not only can you prepare for the big day but you can also document everything along the way too!
If you are feeling down or not up for, the best thing to do is use a pregnancy journal and planner, the one I can't rave enough about is the best Pregnancy Journal and Planner of 2020 here.
Using this planner will help so much with things to do, what to do, what to buy for baby, and even newborn trackers and postpartum tips!
Knowing you're diligently working towards preparing for baby's arrival can help your mental state tremendously.
Join pregnancy Facebook groups or other online forums for emotional support
Having trouble venting to others about your thoughts? Maybe you don't feel like you can relate to the non-pregnant people in your life.
Or maybe you are keeping your pregnancy a secret for now and can't talk to anyone about it just yet…
This is where it will be super beneficial to you to join some pregnancy groups online and talk to other pregnant mamas who may be going through the same thing.
You guys can totally support each other during this fragile time in your life, and hey, you may even spark up an online friendship well into postpartum life! 🙂
Read a self help or motivational Book
A good book can go a long way especially if it is a pregnancy book that makes light of the hard times you can face as a pregnant woman.
We can sometimes feel things that we can't quite express but when we read it in a book we can relate.
Watch a Comedy Show or Movie
A good laugh is just what the soul needs when you are feeling down.
I love to get a good hard belly laugh. Sometimes we forget that life is fun and meant to be enjoyed when we smile and laugh it brings positive energy to our state of mind and those who surround us.
Write in your journal
Writing in a journal is an amazing way to let things out, brain dump, or even write down what you are grateful for each day.
Journaling is a proven method to relieve anxiety and stress for many many women.
I find journaling in the morning to be the most peaceful and relaxing way to jot down my thoughts and begin my day.
Treat Your Body
You don't have to go completely out of your way to get on the right path mentally and physically, sometimes it just takes about an hour to do something nice for yourself. (or have someone else do something for you)
Delegate household tasks
Having family or friends help out with housework here and there is going to be super beneficial during your pregnancy.
After all, you are carrying and growing an actual human being, you deserve some much-needed relaxation time mama.
Call a family meeting to discuss chores and responsibilities.
If family or friends are unavailable because of conflict in schedules that's OK!
I came across this AMAZING service called taskrabbit.
This service is so good because it allows you to hire people in your area that will help with literally anything and everything.
Some tasks you can have someone help you with is:
This service is one of a kind and so unique I can't even believe its exists!
I did everything during my pregnancy and really I should have taken advantage of a service like this so I wasn't so overly exhausted all. the. time.
This service really helps you if you are a high-risk pregnancy, or on bed rest at home with a busy family (husband, parents) who just doesn't have time to help every single day.
Check out the taskrabbit featured services here.
Delegating simple tasks to others every week can really lower your stress levels on your mind and body helping you become a happier pregnant mama overall.
Pregnancy Massage
A Pregnancy massage feels so good you won't even realize that you had the muscles that ache in your lower back, neck and feet, oooh the feet!
You might even creep out your masseuse just a tad when they get in on those bad boys, making noise is irresistible the oohs and aahs just flow right out of your mouth.
When you are checking out (hopefully via a gift card) grab yourself a lotion with a soothing aroma so you can take a little bit of the spa home with you to enjoy later.
If your budget doesn't allow for a trip to something like massage envy, you can always opt-in for a massage chair pad like this one.
My significant other has one of these and he swears by them! He uses it at work and at home on the bed too. You can't go wrong mama. This one is our favorite.
Mani/Pedi
Mani/Pedi a little fresh paint can go a long way for a gal, sometimes just having your nails done can make you feel like a brand new woman and it doesn't take too much time to get done and the pedicure usually comes with a bonus calf and foot rub.
If you can and the salon offers it, opt for a paraffin wax treatment, it makes your skin feel so soft and beautiful.
We all just want to feel a little beautiful sometimes.
Face Mask
Face Mask is great if you can't get out of the house or maybe just don't even have the energy.
If you get the peel mask you can't go wrong, no mess and it really does the trick as far as getting a quick little recovery where downtime can fit in.
This specific face mask is my favorite.
Just remember to take it off when you answer the door (sorry postman).
Yoga
Yoga is one of those wonderful things that you can do at home on your bed or on a mat.
Putting yourself in a nice meditative mindset while you stretch your muscles can be so rewarding for your mind and body, a few deep breaths can help clear your mind for challenges through out the day.
Another great thing about yoga is, you can do it whenever you have time, it is a great way to begin or end your day with a positive outlook.
Meditate
Along with a nice yoga practice comes meditation. This can help with mind and BODY to relax stressed out muscles and create a sense of calm throughout your whole body.
You can really do this anywhere you feel comfortable mama.
I love meditating at night before bed I usually put on youtube meditation music and reconnect with myself after a long and stressful day.
The kind of meditation video I would put on as a pregnant women would be something like this:
Conclusion
I hope these techniques and tips help you with your pregnancy and keep you staying positive. Having a positive and happy pregnancy really is important for you and your baby.
being pregnant is a gift some people don't have. Embrace your new journey and remember this is a beautiful time in your life full of new possibilities.
Let me know:
What other ways do you stay positive during your pregnancy journey?
Pin for later:
If you enjoyed this article please give it a share.
How to Stay Positive During Pregnancy (happy pregnancy happy baby)