This post contains affiliate links.
How To Increase Milk Supply When Pumping
Power pumping is the process of pumping breast milk frequently in a short period of time.
It is a critical process and you should stay comfortable and relaxed while power pumping to increase your milk supply.
Top 3 pumping products every breastfeeding mom needs
If you are running low on milk supply and using power pumping as a technique to increase it then this post is totally for you mama…
I also highly recommend a breastfeeding class like Milkology to help you further in your breastfeeding journey, she has awesome solutions to everyday breastfeeding problems and 3 different classes depending on your needs…
What is power pumping and how does it increase milk supply?
Power pumping is a strategy used by women to increase their milk supply when they are excessively pumping or nursing.
It is the idea of tricking your body to empty the breast through a rapid pumping process.
Power pumping increases your milk supply by creating an artificial demand for breast milk thus boosting the supply of breast milk very fast.
You give a message to the body by increasing the number of times you pump.
This occurs naturally every time your baby goes through a growth spout causing frequent signals that increase breast milk supply in your body.
More content I know you'll love:
How often should I power pump?
It is recommended that women power pump once per day.
However, if you want to power pump twice a day, it's alright.
If you can manage to power pump twice a day you should make sure that your pump does not burn you out and leave you suffering.
During my power pumping sessions, I realized I was using the wrong size flange and was beginning to feel a little sore.
So I got a size up and then felt much better.
Breast pumps do not come one size fits all mama so please make sure you have the right size, so you are comfortable during this process.
I found that the Lansinoh Lanolin Nipple Cream for Breastfeeding worked wonders for my sore nipples.
This nipple cream is 100% natural and hypoallergenic which means its safe for you and your baby!
You can check out the Lansinoh Lanolin Nipple Cream for Breastfeeding by clicking here.
Once you have drained your breastmilk, you can stop the power pumping session.
It is critical to remember that you need to empty your breast every time you power pump to maintain your breast milk supply.
What equipment do I need to power pump?
Did you know that most major insurance companies are by law obligated to provide mom to be with a FREE breast pump? It's true!
The process is flawless when you go through Aeroflow.
You can actually sign up here to qualify!
The double electric power pump is a piece of efficient equipment for power pumping.
The double electric pump provides great stimulation to maintain the supply and flow of good milk production.
An important hormone used for making milk called prolactin increases when you use the double electric pump.
Which you can get absolutely FREE through your insurance company.
You can sign up to get a FREE breast pump through insurance by clicking here.
When to power pump?
Breastfeeding research suggests that milk volume was in great amount in the morning and slowly fell throughout the day.
If possible, you should begin your power pumping sessions during the morning nap before your baby wakes up.
You can also power pump during the first scheduled pump of the day.
If your baby is sleeping soundly you could also set an alarm and power pump in the middle of the night.
Recommended: 10 Surefire Pumping Tips to Increase Your Breast Milk Supply
Power pumping schedule
Power pumping requires a ton of hard work and commitment, mama.
To achieve incredible results you need to commit yourself to a consistent schedule and plan of at least one hour per day.
One hour includes 40 minutes of breast pumping and 10 minutes to relax off the breast pump.
You can also schedule to do it twice per day to reap the benefits of power pumping.
How to make power-pumping easier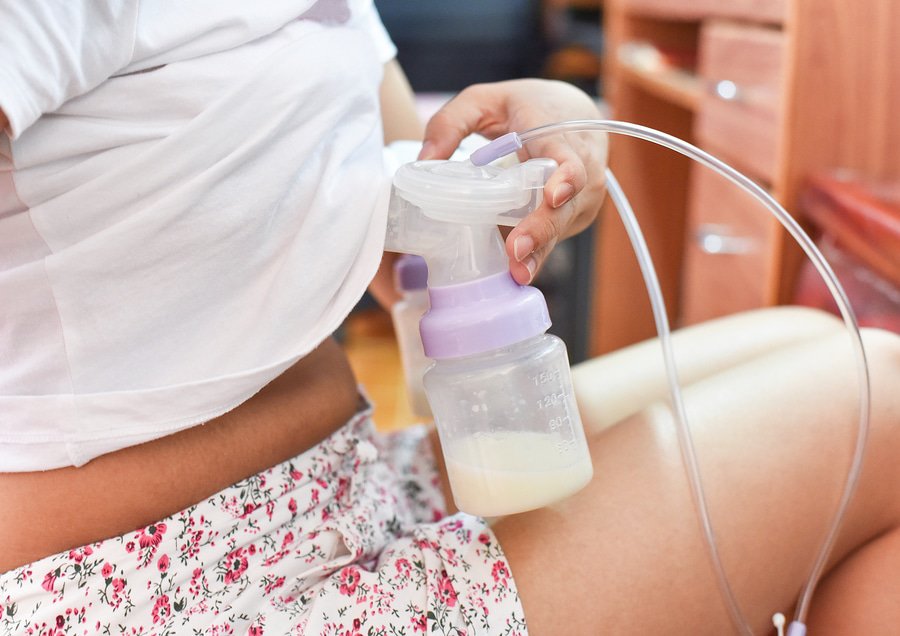 One of the tricks and tips to make power pumping more comfortable is drinking lots of water and keeping yourself hydrated.
Staying hydrated and drinking lots of fluids is vital if you want to maintain your constant supply of milk.
Get one of these and you won't have a problem staying hydrated throughout the day!
You can also make some healthy snacks and fruits.
Here is a great article I wrote about what kinds of food to eat to increase your milk supply, you can check it out by clicking here.
How long does it take to boost your supply by power pumping?
During power pumping when you want to increase your milk supply it is recommended that you double pump for about 15 minutes.
This is to ensure that you boost and increase your optimum breast milk supply.
Recommended: Pumping Breast Milk at Work (7 tips for working moms)
However, how long it takes to increase your milk supply depends on the body of every individual mother. It's very important to give your body time and patience.
Trust the process…
>>> DON'T FORGET TO CLICK HERE TO CHECK OUT MILKOLOGY'S POPULAR ONLINE BREASTFEEDING CLASSES <<<
Pin for later
If you found this article helpful please share it with other moms 🙂
How to Power Pump to Increase Milk Supply