This post contains affiliate links.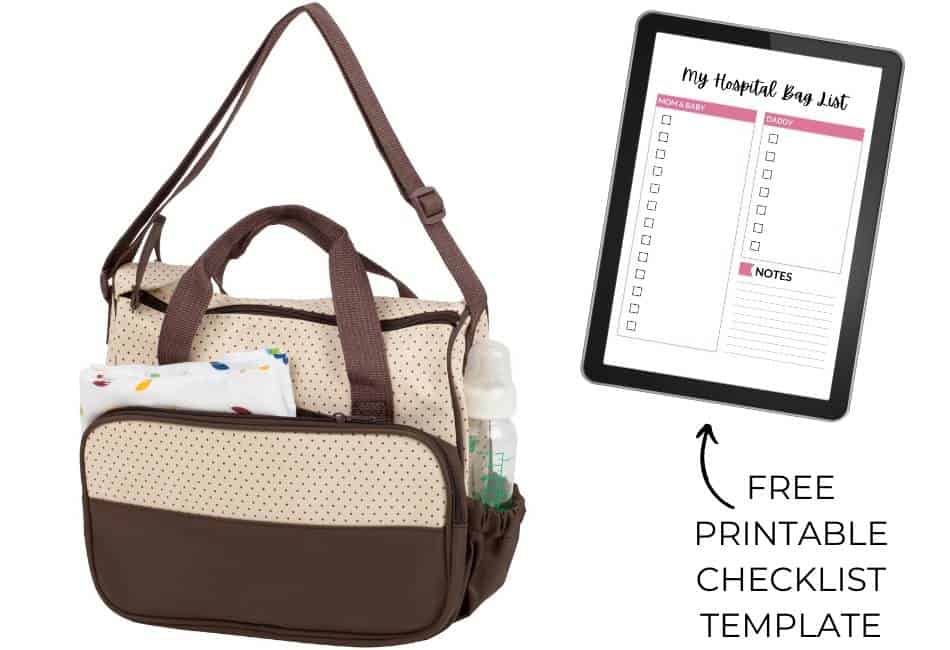 I bet you are wondering mama, what do I really need to bring to the hospital?
Surprisingly its not a lot!
I didn't even bring much to the hospital for my sons birth and I still brought to much. If you can imagine that. Honestly, the hospital really has a tons of things for you while you are there. Today I am going to make you take some unnecessary things out of that packed hospital bag by the door (if you have one ready yet).
If you have not packed your hospital bag yet here are some absolutely VITAL things to bring to the hospital before having a baby, and nothing more unless advised by your Dr.
✅ P.S. this specific hospital bag on Amazon is my favorite.
What The Hospital Usually Provides
Underwear
Hospital Gown
Swaddle Blankets
Diapers
Wipes
Pacifiers
Formula
Baby Hat
Blankets
Pillows
Quick Reference for Hospital Bag
| | | | |
| --- | --- | --- | --- |
| Mom | Baby | Dad | Misc |
| Hair Ties | Burp Cloths | A Couple of Outfits | Birth Plan |
| Lip Balm | Nigh Gowns | Pajamas | Tooth Brushes |
| Brush | Going Home Outfit | Lots of Snacks | Phone Chargers |
| Water Bottle | Hand Mittens | Music | Money |
| Warm Socks | Bottles and Formula | Laptop | Car Seat |
| Going Home Outfit | Boppy Pillow | Headphones | Documents/Paperwork |
>> See the full list on Amazon here <<
What to Bring to the Hospital for Mommy
Giving birth for the first time or even for the second or third time can be super overwhelming and sometimes you'll forget things that you wish you brought.
We don't want to go overboard with the things that we bring to the hospital but we do want to be comfortable when pushing a baby out of our body.
The items in this list are the things I was super grateful I had during labor and I know you will be really happy you brought this in your hospital bag too…
#1. Hair Tie's
Make sure you have some hair ties in your bag because it would be a shame if you forgot these. The birthing process is hard enough, you don't want your hair in the way while you're trying to push a baby out of your body.
These hair ties that are pictured above are the most comfortable hair ties I have ever used in my life and I promise you you will love them.
They are thick and can hold your hair very well, they do not snag or fall out easily. They come in other colors too!
Get hair ties on Amazon here <<
#2. Lip Balm
Giving birth surprisingly dries out your lips a lot. So having a really good lip balm is a life saver.
This particular lip balm is an intense therapy lip balm which will keep your lips moist for longer periods of time. It is infused with shea butter and vitamin E and has an SPF of 25 in it.
Applying this as needed during the birth process will ensure that your lips do not dry out and break while giving birth.
I promise you will be sad if you forget this at home.
Get lip balm on Amazon here <<
#3. Hair Brush
Using a hair brush at the hospital before or after baby is born is a good idea when you are documenting the birthing experience either through video or photos.
You will definitely want to have your brush handy after birth especially because your hair will most likely get mangled and tangled from trying to push a human out of your body.
This wet brush is really good at detangling your hair even when its dry, but do not be surprised if you are sweating afterwards too.
Get hair brush on Amazon here <<
#4. Water Bottle
It is important to stay super hydrated during birth. Most of the time the water that the hospital provides is just a Cup I will have to be refilled a lot, so having your own water bottle available is a good idea.
Follow your doctors instructions on water intake.
When you are in labor and you use up your water in your body quickly. So it is advised to drink a Cup of water every hour during labor and delivery.
Failing to drink enough water can cause you to have a longer and harder birth.
Get water bottle on Amazon here <<
#5 Warm Socks
Hospitals are super cold and you are going to want a pair of warm fuzzy socks. Just treat yourself to this and thank me later.
When you are giving birth your feet are exposed and your toes will get chilly so having a warm pair of cozy socks is going to make feel so much more comfortable.
Get warm socks on Amazon here <<
#6. Going Home Outfit
When it's finally time to bring your precious baby home with you you are going to finally need to get dressed to go home yourself.
Having a really comfortable going home outfit is ideal for any new mom. I recommend something with a lot of give and if you are breast feeding, easy access to the boobs.
This really pretty and super comfortable outfit is perfect for that. Heck, I would even buy two, one coming into the hospital, and one coming out of the hospital!
Get your going home outfit on Amazon here <<
What to Bring to the Hospital for Baby
Leave it or not the hospital provides a decent portion of supplies for your baby. but I understand having your own things for your baby is important as well.
Here are some things that you would consider bringing to the hospital for your newborn…
#1. Burp Cloths
I can't remember if the hospital provided me with burp cloth but it doesn't hurt to bring your own in this case.
Sometimes the baby will spit up and there won't be a birth cloth available from the nurses so it's a really good idea for you to bring your own burp cloth just in case you may need them while at the hospital.
If you are formula feeding your baby they will be a little messy at first when trying to use their new bottle so that is a good time to use the burp cloth as well.
Get burp clothes on Amazon here <<
#2. Night Gowns
Throw all that you've learned about onesies in the garbage momma. let me put you on something really quick.
If I had to do this all over again these are the only things I would put my newborn infant in ever.
These newborn night gowns are perfect for quick diaper changes in the middle of the night, when you are in the hospital and anywhere and everywhere.
I would honestly only bring these to the hospital besides the going home outfit for your baby.
Baby nightgowns and some baby socks like these will be more than enough for your little one especially when you are most likely going to be swaddling as well to keep them nice and warm at the hospital.
Don't walk, run and buy these now!
Get these adorable night gowns on Amazon here <<
#3. Going Home Outfit
Who doesn't love a super cute going home outfit for your newborn? Lots of pictures are to be taken when you are leaving the hospital with your newborn baby and having an adorable and witty outfit to bring them home in is perfect for the occasion.
I absolutely adore this cute black and white hello I'm new here going home outfit for your newborn.
Having a going home outfit for your newborn is essential for their memory box.
Get your newborns going home outfit on Amazon here <<
#4. Hand Mittens
Honestly, I forgot to bring mittens for my newborn and I completely regret it the moment he was born.
I did not even think about how newborn scratch their faces but they absolutely do and don't be surprised when yours does too.
I actually had to have my newborn's dad go to the store and buy mittens because it was that bad.
So believe me when I tell you this is not a nice to have item it is a necessity and you will be sorry if you don't pack these in your hospital bag like right now.
Get hand mittens on Amazon here <<
#5. A Couple of Bottles and Formula (if not breastfeeding)
Giving your baby a bottle and formula right out of the womb is OK mama. Not everyone is going to be prone to breast feeding and honestly I was one of them.
I wanted to breast feed but my baby wouldn't latch.
I didn't have time to wait for him to finally figure out how to eat after a day so I bit the bullet and gave him formula and he turned out just fine 7 years later.
Just in case even if you're not planning it I would still bring a bottle and some formula of your choosing.
#6. Boppy Pillow
My baby was in this thing the whole time we were at the hospital if he wasn't in my arms or someone else.
This boppy pillow right here was a lifesaver and I don't know how I would have lived without it in the hospital.
I put the boppy pillow in the middle of my legs and laid the baby there while sitting on the hospital bed.
Get my favorite boppy pillow on Amazon here <<
What to Bring to the Hospital for Daddy
Dads are the easiest especially if you live close to the hospital you're giving birth at because they can just literally go home and grab things that they forgot for themselves.
I mean yes technically they can go home and grab things that you forget for yourself and your baby, but it's actually a lot better for you to already have that stuff on hand so you don't have to worry about it and keep having daddy going back and forth.
But just in case you don't live that close to the hospital that you're giving birth at these are the things that dad should have handy in the hospital room.
#1. A Couple of Outfits
If you're going to be there for a day or 2 or you had a C section which will allow you to be there a little bit longer than usual, your hubby may need to bring a couple of outfits to change in and out of throughout the couple of days you will be there.
Unfortunately they do not get a hospital gown for the remainder of your stay after baby is born.
#2. Pajamas
He will also need pajamas to sleep in at night unless he likes to sleep in his clothes that he wore that day, that's fine too.
But since he is the dad to be and it's a special day for him too, it's a nice gesture to get him some new daddy pajamas for the hospital so he can be super comfortable while he lays on the pull out couch next to you.
I think these pajamas are perfect for your man to wear at the hospital they are the best seller after all.
Get these cool new dad pajamas on Amazon here <<
#3. Lots of Snacks
You can't go wrong with a ton of snacks.
You may not be able to eat if you are about to have a C section or if they think that you might need a C section, but your man is going to get hungry. Hangry shall I say.
Depending on the hospital that you give birth in the food may not be up to par especially for a picky man like yours, so having a plethora of snacks is ideal for the situation at hand.
Get this big box of snacks on Amazon here <<
#4 Music
Music is essential when sitting around waiting for something to happen like having a baby.
Luckily, if you get an unlimited subscription to Amazon Music all of your Mans music desires will come to life.
Waiting for a baby to come can sometimes be daunting and having something to listen to in the mean time can ease your nerves and your partners.
I am in love with the Amazon music unlimited subscription because I can listen to any song I want to whenever I want to.
They even have modern classical music that really helps you relax your nerves during labor and delivery an even after baby is born.
I love putting on Brian crane because his music is so soothing and gentle even for a newborn.
#5. Laptop
Your hubby may benefit from having his laptop with him so he can watch movies or play some games while waiting for your baby to arrive.
If you are one of those people who have had your baby in about an hour or so then obviously you don't need this for your hubby but considering you don't know how long it will take for your baby to arrive it's good to have some entertainment to help you with the wait.
#6. Headphones
Your hubby may want to bring his headphones as well so as not to disturb you if you are trying to get your newborn baby to sleep after they are born.
These Sony headphones are really good…
Get Sony headphones on Amazon here <<
No Brainer Stuff to Bring to The Hospital When You're Having a Baby
#1. Birth Plan (if you have one)
If you want to have your birth plan on hand for your doctor then you will definitely need to bring this in your hospital bag with you.
Quick tip on birth plans though, just remember if it doesn't go your way take a deep breath and go with the flow mama, the goal is to get the baby out by any means possible and make sure that you and baby are healthy afterwards.
Everybody is pretty digital so I would suggest just having your birth plan on your cell phone ready.
#2. Tooth Brushes
To make sure we all stay clean in the hospital it's a good idea to get a travel toothbrush and toothpaste for you and your partner.
You don't want to be caught with butter teeth when taking going home pictures with you and your new family.
Get these travel tooth brushes on Amazon here <<
#3. Phone Chargers
Finally, I mentioned the infamous cell phone Chargers. How could anybody forget their cell phone charger you ask? Trust me it happens and it's not fun.
Whether you have an Android charger or an iPhone charger you better believe you are going to need it with all the videos and pictures your about to take, and not to mention social media, phone calls and text messages, you get it.
So go pack that…
Get a phone charger on Amazon here <<
#4. Money
I'm not just talking about plastic here guys, you're gonna want cold hard cash just in case you don't have any snacks that I told you to get, because you're gonna be heading up the snack machine more than once.
So just be aware of the fact that you are going to need some dollar dollar bills on hand .
#5. Car Seat
I don't know how far along in your pregnancy you are right now but this should already be in the car.
If you don't know how to put your babies car seat in the car properly you can go to your local police station or fire station and they will do it for you for free.
Get you newborns car seat/travel system on Amazon here <<
#6. Documents/Paperwork
Bring any sort of documents you may need for the hospital. things like your health insurance card and your hospital intake paperwork, your pregnancy medical files any medications that you're using, and you can also put your birth plan in this cute little document organizer I found on amazon here.
You may want to also get this document organizer for any kind of paperwork that you will be leaving the hospital with is well.
Get a document organizer on Amazon here <<
I have taken the time to design this free download for your hospital bag list I made it as a template so you can add in whatever you would like from this list in the article.
This is a FREE printable download:
I hope I have helped you pack your hospital bag today and good luck with your birth mama.