This post contains affiliate links.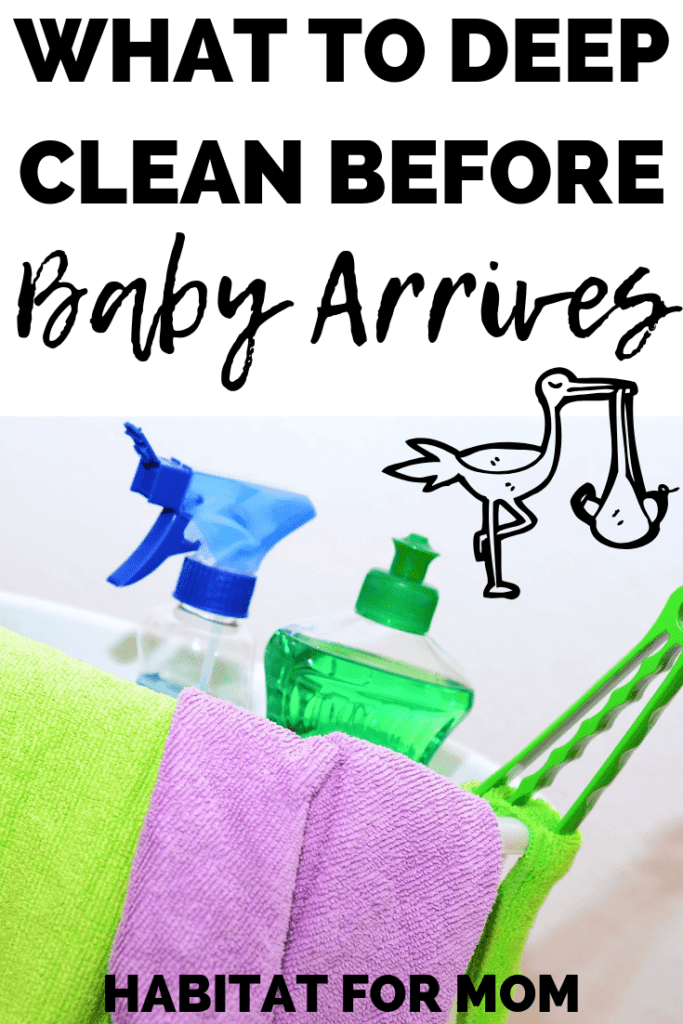 You may think you have 9 whole months, so you have time, maybe you do, maybe not. But the baby just has to arrive in a clean home.
And there are many preparations to set the house in order for the arrival of your baby.
You may have heard or read of the stuff you need to pack in your hospital bag + several other tips, and deep cleaning is another important thing you need.
If you want to learn how to stay organized and on task with super helpful checklists and to-do lists for every stage of pregnancy (even the "4th trimester!") – Click here.
To achieve this, you may get your family, parents or even friends to help out, or better still, hire a service.
As a pregnant woman, you do not want to harm yourself with cleaning fumes or specks of dust flying around, be careful when getting close to the area being cleaned.
Of course, every parent wants to welcome the new member of the family in a grand style, and while we prepare for the event, we tend to overlook the small but important things like deep cleaning the sink, so the list below is what to deep clean before your baby arrives.
Whether your baby's clothes are bought at the store or are hand me downs by your friends and family, you should wash them before your little bundle of joy wears them.
It's hard to tell or know what it has come in contact with before reaching you or if your child will be having sensitive skin or not.
I really love ECOS Laundry Detergent when washing your baby's clothes for the first time, I highly recommend this detergent.
It is earth friendly with no perfumes or dyes. Perfect for little ones.
You can also use laundry detergent like this one, but I love the all natural rout more. You can see the ECOS Laundry Detergent by clicking here.
The little activity of washing, folding and safely keeping all those little –or as I like to call them, tiny clothes that has the lovely smell from the baby detergent will surely make you wish you have your baby in your arms faster than the due date.
It is important to keep your linens clean, including the sheets, towels, blankets, clothes, curtains, upholstery and other linen in the home that can be cleaned or which the baby may come in contact with.
It is important that you use detergents that are baby safe or organic, this will prevent a rash or any form of irritation on your baby's' skin.
DO NOT FORGET THE BLINDS!
As you're cleaning every part of the house, do not forget the blinds.
You can use mismatched socks – which we all have if we're human.
Spray it with water on one part and multipurpose cleaner on the other part, then wipe each blind clean.
The process may be finished with a fabric softener sheet that creates a shield from dirt and will repel unwanted dust from the blinds for a long time.
Hire Professional cleaners
Some parts or areas of our homes are best cleaned by professional cleaners.
Areas like the chimney, the air conditioner, fans, your rug, wooden floor, carpet or tiles, or those areas that are not part of the everyday cleaning routine.
Before you realize it, your baby will be crawling around the home, they will breathe air from the home, and it needs to be clean air.
This means all the areas of the home must be sparkling clean, you do not want to endanger your baby's health.
If you do not want to go as far as getting a pro cleaner than a really good air purifier like this one will do the trick.
TAKE CARE OF THE RED ZONE
While doorknobs are important, you must also take care of those areas that are not easily suspected.
Areas like the sink, sponges, countertops, dish rags, refrigerator handle, faucet handles, cutting boards, the toothbrush holder, etc.
These areas need to be deep cleaned before your baby arrives.
>>> LEARN MORE ABOUT HOW TO PREPARE FOR BABY BY CLICKING HERE! <<<
If you found this article helpful please share it with someone who may benefit from it!