This post contains affiliate links.
---
The arrival of your baby is an exciting and new experience, as parents, we want to do everything we can to keep our bundles of joy safe from all harm, even at home.
That's why prepping your home before the arrival of your baby is so important. Here are some things that you can prepare before the arrival of your baby. Clean Your Entire House.
Looking for a simple way to prepare for baby?: Read my Oh Baby Pregnancy Planner review here.
Dust and dirt can linger around your house and can cause allergies for your baby.
So giving your home a good thorough cleaning can prevent any irritants from annoying your baby.
Related: What to Deep Clean Before Your Newborn Arrives
Make Pre-Baby Freezer Meals
Soon after your baby comes home, those late-night feeding times will start to become more and more frequent, and your energy levels may start to get lower as well.
So having those freezer meals prepared can save lots of time and can help you and your baby get to bed much faster.
Make Room In The Fridge and Freezer
Making room in the fridge and freezer for a new diet and/or breastmilk can help you stay organized and focused.
When you're digging in the fridge for food, whether it's yours or your baby's, it can be frustrating and overwhelming, especially if your little one is hungry and crying.
Dividing certain shelves, or placing racks into your fridge or freezer, should help things run a lot smoother.
When you are stocking up on breastmilk learning how to organize and store it is a life-changer.
You will also want to make room in drawers and cabinets for baby stuff.
Recommended: 10+ Important Things to do When You Find Out You're Pregnant
I had the Dr. Brown's bottles which are very popular for colicky babies.
They have tons of parts to them so I organized a drawer in the kitchen specifically for the bottle and its parts. I found the drawer organizers awhile ago at the dollar store but you can find similar ones by clicking here.
Related: 17 Must Haves to Survive the First 17 Days with your Newborn
Catch Up With All Your Laundry
Mostly after a baby is born, you are busy catering to the baby, and really don't have much time to focus on yourself at all.
So, make sure you have a fresh start and plenty of clean clothing can assist you in avoiding a massive pile of laundry on your floor.
Moving forward I would recommend doing laundry at least once per week, if not twice per week to keep up with everything.
If laundry feels overwhelming to you especially when you have a newborn, I would suggest outsourcing your laundry duties, it is not very expensive as you think, and you would really love the luxury of handing off the burden to someone else.
That way here, you can spend more time with your new baby and less time worrying about housework. 🙂
Baby Proof
Baby Proofing your home is extremely important, having dividers within certain rooms, and cushions on hard or sharp edges, and ensuring your furniture is extremely stable are all great ways to keep your baby safe.
Even though your baby is a newborn now, they will grow faster than you think.
Rolling will turn into crawling, crawling will turn into walking, and soon they'll start running around before you know it.
So make sure to have a protection system prepared beforehand.
Related: 4 Quick Tips For Baby Proofing On A Budget
Organize Your Baby's Clothes
We all have those cute matching outfits perfectly planned for our babies to wear, and after a few wears and lots of laundries later, their clothes could get mixed up.
So having a method of organization, whether it be by color, or by size, will help you a lot in the long run.
Related: 10 Baby Storage and Organization Ideas for Small Spaces
Set Up The Pack N Play
Babies are curious little things that love to play and stay entertained, whether at home, or traveling.
A simple Pack N Play can prevent your baby from getting upset and can help them have a good time.
Setting up a Pack N Play is a great way to keep baby contained and safe when you are doing housework and should keep them entertained as they get older.
I also recommend setting up the Pack N Play in your room, I did this with my son when he was a newborn and it completely replaced the need for a bassinet.
He hated the bassinet but somehow loved the Pack N Play as a bed instead.
Related: Why You Don't Need a Bassinet And What Works Better!
Create A Safe Sleep Space In Your Room
Creating a safe space for your baby while they sleep is important to their health.
Making sure your baby is in a secure spot, as well as at the right temperature and position can help you and your baby sleep better at night.
In case you may be in separate rooms having a baby monitor like this one can help you keep an eye on your little one as well.
Make A Breastfeeding Kit
A breastfeeding kit is a mandatory thing to have with you.
Having a blanket to cover your baby while breastfeeding if company is over, as well as breast pads and an extra maternity bra just in case of a spill, are all handy and helpful things to have nearby.
Whether you're at home or on the go you should have these things handy and ready at all times.
Here are some great breastfeeding station essentials I know you will absolutely love, you can keep these items in a box next to your favorite breastfeeding chair at all times, or even have multiple ones around the house where you feel is needed. 🙂
Related: 7 Breastfeeding Station Essentials Every Mom Should Have Handy
Designate Diaper Stations
Having designated diaper stations throughout the house is very convenient and time-saving.
As new moms we need all the time-saving techniques we can get and this one is by far one of my favorites.
I actually had a cute little diaper station set up in my son's nursery which I did use pretty often, but then it got to be too much to have to keep going into that room to change his diaper real quick.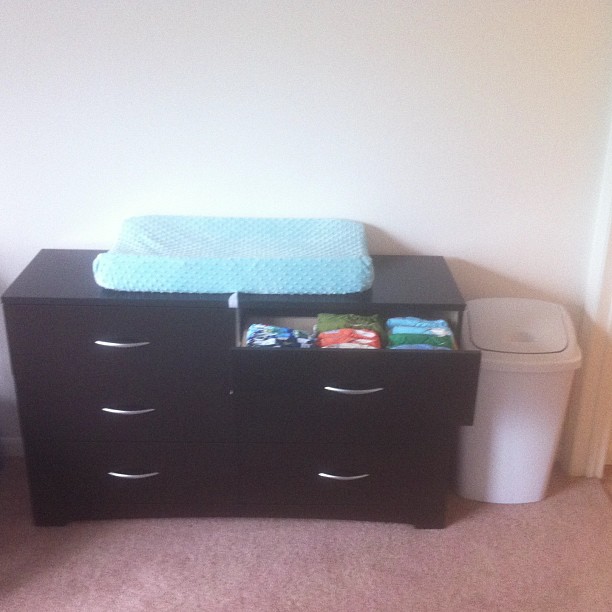 So I eventually took the diaper pad out and put it in the room we used frequently (the living room)
I also had one in the bedroom where we slept along with all the diaper changing essentials of course.
So wherever you are in your house the most, make a diaper changing station also.
Things you will find handy in your diaper changing station:
diapers (duh)
changing pad
wipes
diaper changing toys
bleach and water bottle to wipe down changing pad after poos
You can always get a diaper caddy/organizer like this one to bring with you from one room to another but I always like to have multiples so I do not have to tote things around.
If your home is smaller this cady would be a good solution so you do not accumulate any clutter in a small space.
Related: The Best Diaper Changing Hacks for New Moms
Make A Car Kit
So lastly, having a baby car kit is one of the things I actually struggled with in the beginning.
It was not something I took the time to do which I eventually regret.
Especially when you run out of diapers midday while running errands and now you have to run into the nearest store before your baby has another poop.
Yes, this happened more than I'd like to admit. (real life).
Having a handy dandy car kit of all the essentials you may need on the road would have been ideal.
So my fellow mama, not only should you be prepared at home, but also in the car!
I actually wrote a whole post on what to keep in your car with a newborn baby so you do not have to struggle the way I did early on.
>>> LEARN MORE ABOUT HOW TO PREPARE FOR BABY THE EASY WAY BY CLICKING HERE! <<<
If you enjoyed this article I would truly love it if you shared it with one of your mom friends 🙂