This post contains affiliate links.
Hello! My name is Jennifer. I am a proud mom to one beautiful little boy and am dedicated to helping women like you live your best mom life!
I find solutions for YOU and share them everyday here on this blog… (like this super fun and FREE organization challenge all of my mamas are loving)
Hello! My name is Jennifer. I am a mama to one beautiful little boy and am dedicated to helping women like you during their first trimester of pregnancy and beyond.
I find solutions for YOU and share them everyday here on this blog… (like this super helpful pregnancy journal and planner my readers are loving)
Getting the house ready for baby by decluttering
As new parents prepare to bring their babies home, many start to take a look around their homes and consider ways in which they can be made more child-friendly.
For most parents, this includes decluttering.
The importance of decluttering to prepare for a baby's arrival should not be overlooked, especially since according to childproofers.com, over 200,000 children are hospitalized each year due to injuries that occurred within their home.
The danger of injury for your child can be minimized with some of these simple decluttering tips.
Looking for a simple way to prepare for baby?: Read my Oh Baby Pregnancy Planner review here.
Start with one room at at time
It can be overwhelming to declutter an entire house at once. Instead, begin with one room and work from there.
Beginning with the smallest room in the house can help you get it done more quickly and give you the confidence to move on to something larger.
Take your time.
The more time you have to go through the items in your home, the safer your baby will be.
Step One: Declutter the Bathroom
For most people, the bathroom is the smallest room in the house.
This should make it a short and easy project. Begin with the cabinets. Go through each cabinet or drawer in your bathroom and get rid of or lock away all unnecessary or dangerous materials like medication, cleaners, or sharp objects.
Next, take a look at all the items on the floor of the bathroom and ask yourself if you would like your child to have access to them. For example, the toilet brush on the floor might be better locked away in a cabinet. Don't forget the bath.
Soap or cleaner within a baby's reach can be hazardous. You will probably need to go through your own shampoos or soaps to make room for your new baby's bath supplies!
Try organizing your bath supplies in a caddy that can be placed up high and out of reach.
Step Two: Declutter the Bedroom
Your new baby will probably be spending a lot of time in your bedroom, so it is important to declutter it.
First, go through the drawers and cabinets in the bedroom and get rid of anything you won't be needed with a new baby around.
This will make it easier to keep the items you do have put away instead of on the floor. Make sure all cords or ropes are out of reach.
Cords from electronics or curtains can pose a choking hazard. Take a look at the items on your nightstand.
Jewelry or other small items could be swallowed by your child.
Step Three: Declutter the Kitchen
The kitchen can be a daunting place for new parents, as there are many dangers for a baby. However, there are some easy ways to declutter your kitchen.
First, try sitting down on the floor to look at things from your baby's perspective to identify any potential hazards. Go through all refrigerator magnets.
If you choose to keep any of them, make sure they are above your child's reach, as they are a choking hazard. Identify all hazardous materials such as cleaners or sprays.
Even if you have locking cabinet doors, these items should still be stored out of a baby's reach.
Step Four: Declutter the Office
The home office is often full of wires, cords, and electronics, which can be a huge risk to your child. Make sure there are no cords or wires running along the ground.
If it is necessary for them to be on the ground, tape them down or use a cord cover. Go through all of your office supplies. Sharp objects like scissors, staplers, and even pens can be dangerous.
Get rid of any that you don't need, and lock up the ones you decide to keep. Decide if you really need your paper shredder. If you must keep it, unplug it when it is not in use.
Go through all those books on your shelf. You'll need to make some space on the shelf anyways for all of your child's new books.
Place the heavy books that you can't part with on the bottom shelf so that your child doesn't get injured if they pull them down.
Step Five: Consider Electronics
Be on the lookout for loose cords around your home. Babies are often attracted to cords, which can be a choking hazard.
Pick up and get rid of any loose cords that you can. Lock all necessary ones away.
Take a look at the entertainment center. Bright blinking lights will get a child's attention easily. Get rid of the items you don't need in your entertainment center, and shut the rest away with a childproof lock. Get rid of old phones.
There is no need to keep them. especially with a new baby on the way. Donate them or bring them to an electronics store to be recycled.
Step Six: Other Considerations
Once you have finished decluttering your home for your child, sit on the floor in every room and consider it from a baby's perspective.
Is there anything down there you wouldn't want your child getting into?
It can be difficult to get rid of items in your home, especially if they hold sentimental value.
Keep those that are especially important to you, but know that you will be making many new and wonderful memories with your child.
Step Seven: Go Through Baby Shower Gifts
The gifts that you receive at your baby shower come from a place of love, and it can be very difficult to get rid of some of the items.
However, duplicate items or things that you just won't use can quickly clutter up your home.
If there is no possibility of you using it, don't feel bad about getting rid of it.
Go through every item before your baby arrives to ensure that each one will be useful in your home.
Step Eight: Get Rid of Unnecessary Items
Now that your house is officially decluttered, it's time to get rid of all of the unnecessary items.
Make a little extra money before your baby arrives by selling your items online on local market places.
For everything you are not able to sell, take it to a local thrift store and donate the items, or pass them on to friends and family.
You will be glad to have the extra space to make new memories when your baby arrives.
Related baby prep posts:
Sign Up for a FREE Baby Registry That Has All The Perks and Benefits
My favorite baby registry (based on solid research) is the Amazon baby registry, mostly because its super convenient for the time we are living in. You can easily sign up for FREE by clicking here and the best part is you get a FREE welcome box too!
You can just shoot your Amazon baby registry link over to everyone you know through text messaging, email, facebook messenger, instagram messenger, twitter, you get it…
They also have many more perks and benefits I found out about while doing all the researching, you can read my post about it here.
Pin for later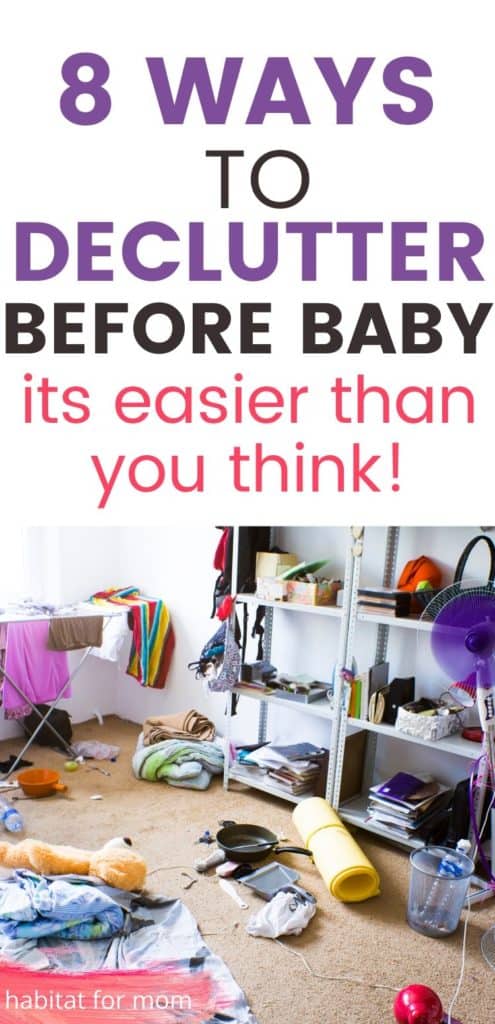 Ways to Declutter Before Your Baby Arrives (in 8 easy steps)